For the fourth year in a row I made my way to Goodwood for the Festival of Speed, and as always I was almost too excited..but with a theme like this years it was hard not to be excited.
Speed Kings, Motorsport Record Breakers was the theme for this year, and I think its very reasonable to be excited for that! For this year I had a quite easy plan (I thought)
but that kept being built upon throughout the weekend.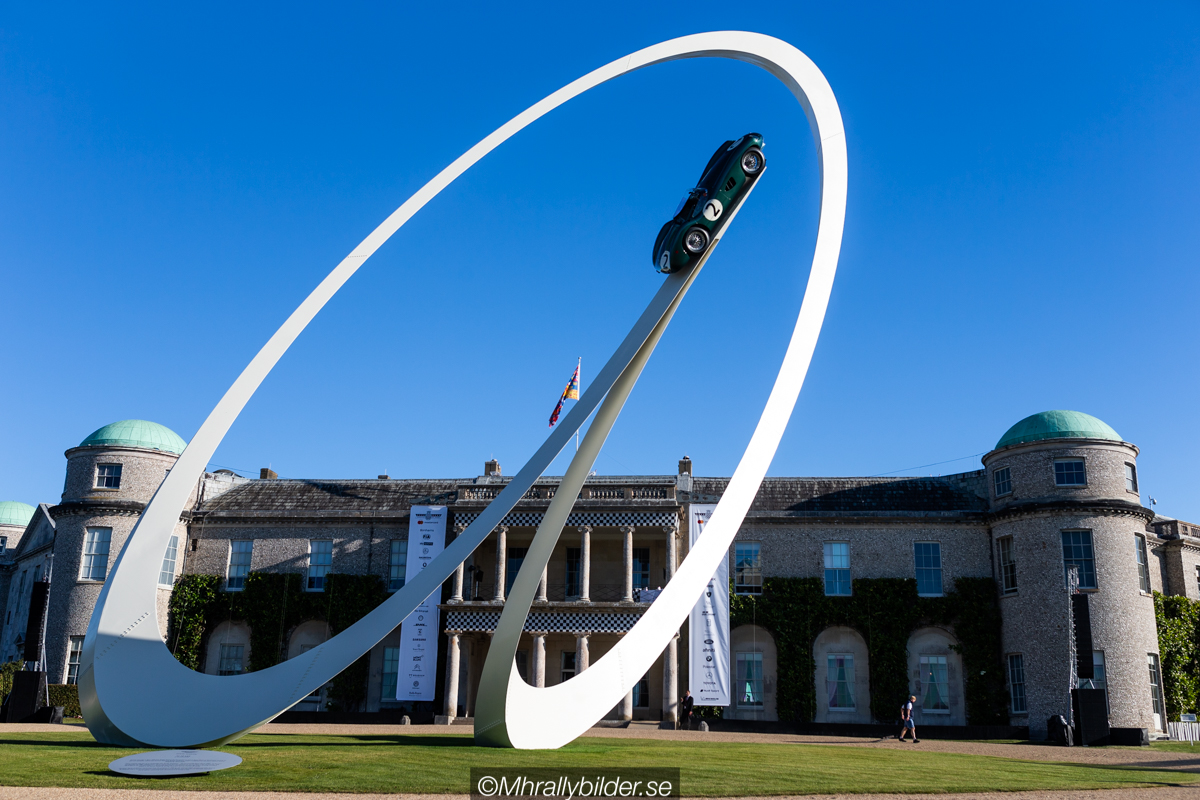 Going past the house on Thursday morning on the way to the media office to pick up all the kit I couldn't help but stopping and admire the central feature this year that
was designed by Aston Martin for their 70th anniversary.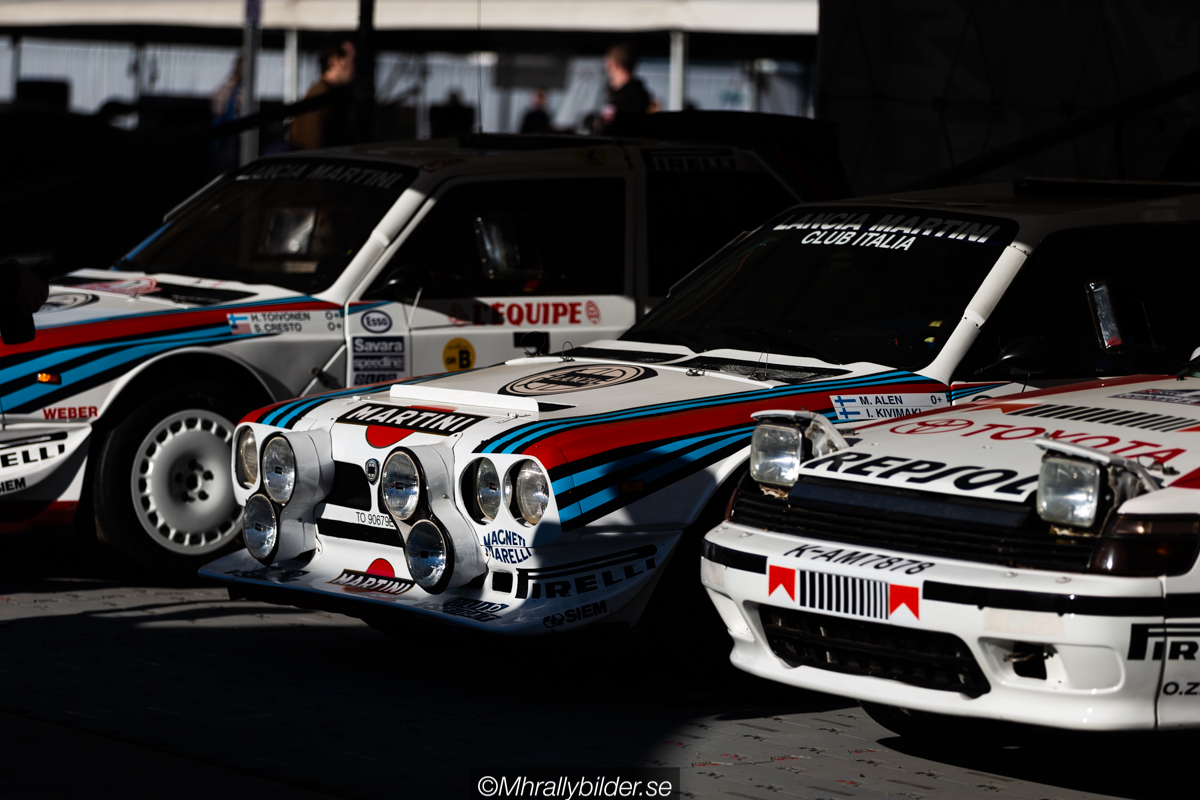 After I had been at the media centre and getting all the stuff I should get I made my way out in the paddock, and just outside the media centre I saw this trio under the
early-ish sunlight. The Delta S4 will always be my favourite Group B car and after having taken a closer look at the Celica ST165 next to it I'm pretty sure that's my favourite
Group A car!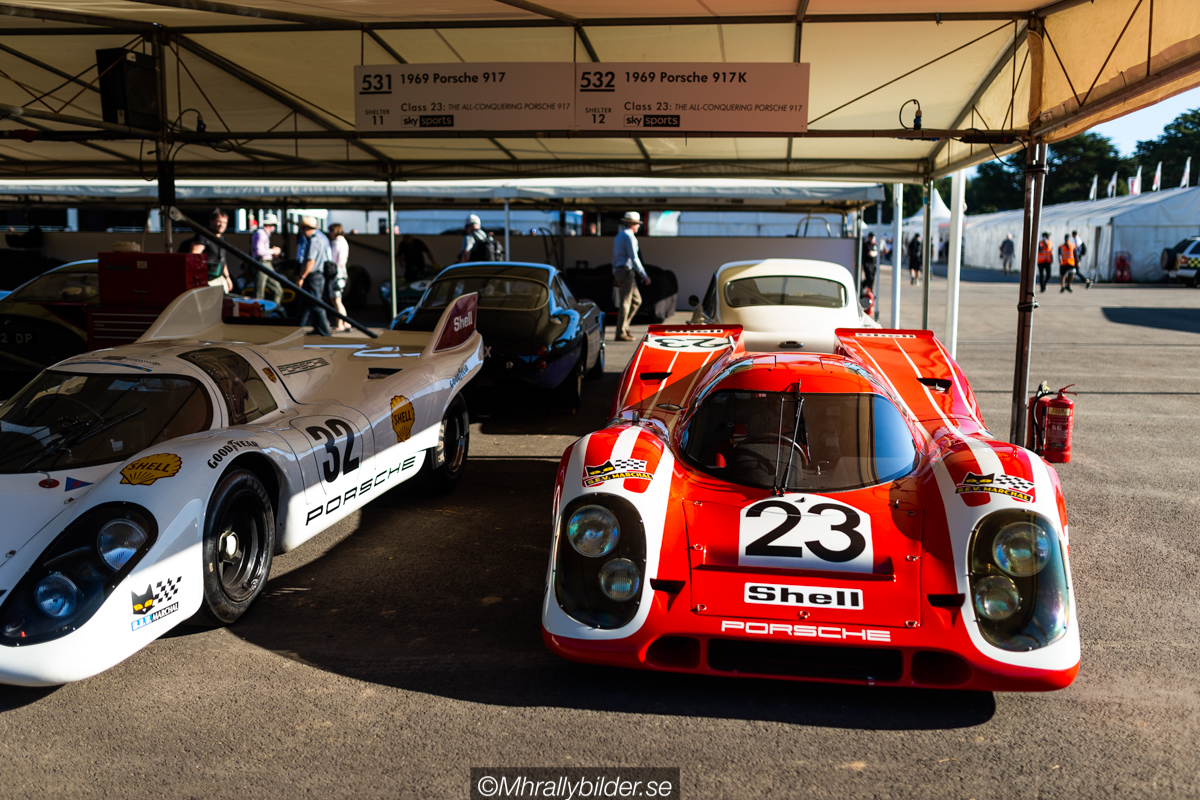 After having seen the Lancias and the Toyota I made my way down towards the hill climb, which on this day (Thursday) was only to be used for manufacturers to show off
their new cars, for a "invitational batch" and for training for the shoot-out. On my way there I came to the row of cars closest to what they call the "assembly area" which is
where all cars will be parked up before they go out on the hill. That row of cars that was closest was a row filled with Porsche 917's in different liveries and versions, all from
this 917K to the 917/30, it was truly amazing to see.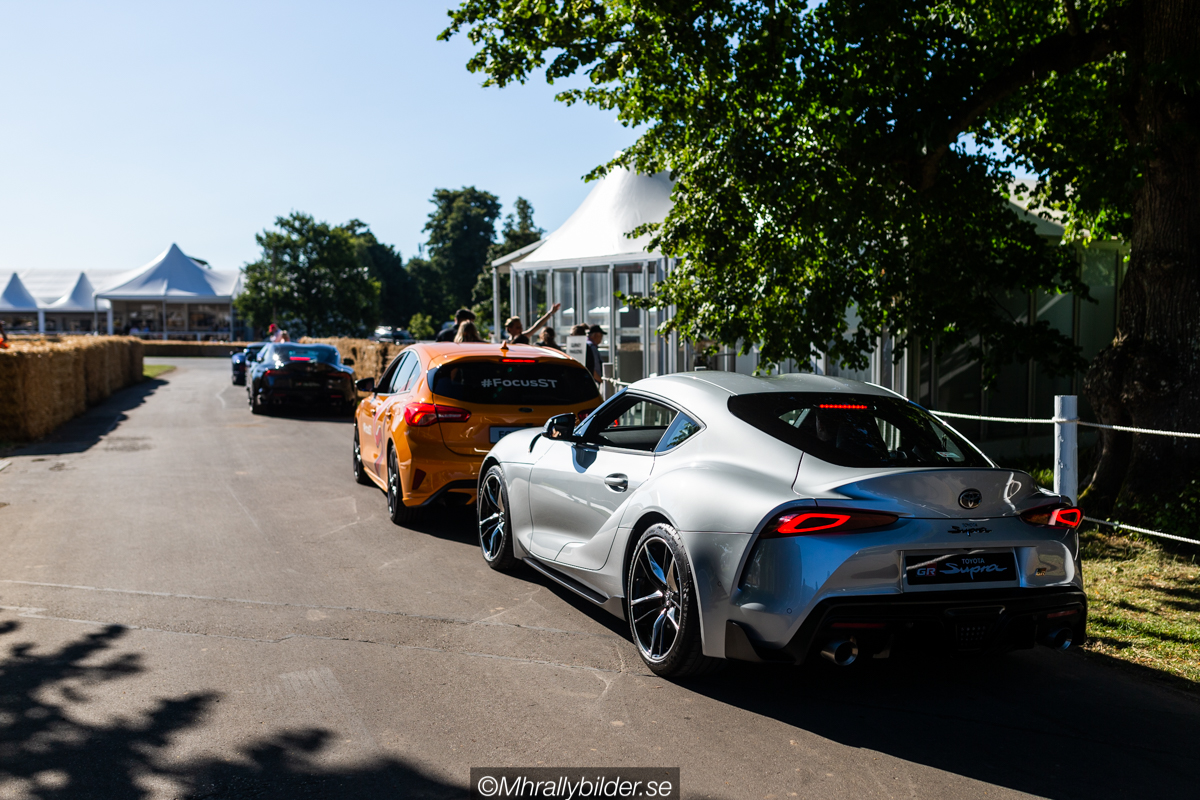 When the clock said I had to be done drooling over the 917's I made my way towards "The Arena" which was completely new for this year, but on the way there I came across
this lovely thing ready to go out on the hill! (this is not the assembly area and this is only used by cars that aren't parked in the main paddock).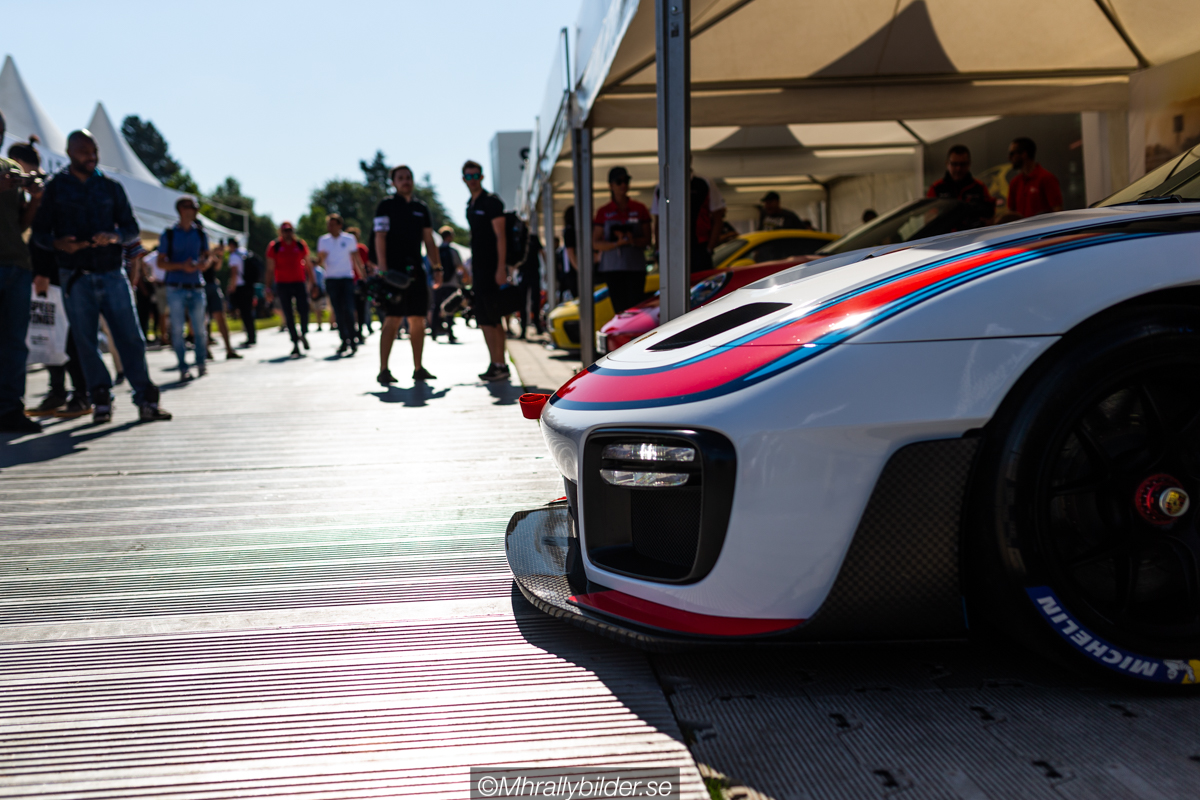 On my way to The Arena I took a slight detour past the Michelin Super Car paddock, and there I saw the Porsche 935 (the new one) and I must say it looks absolutely
stunning in real life!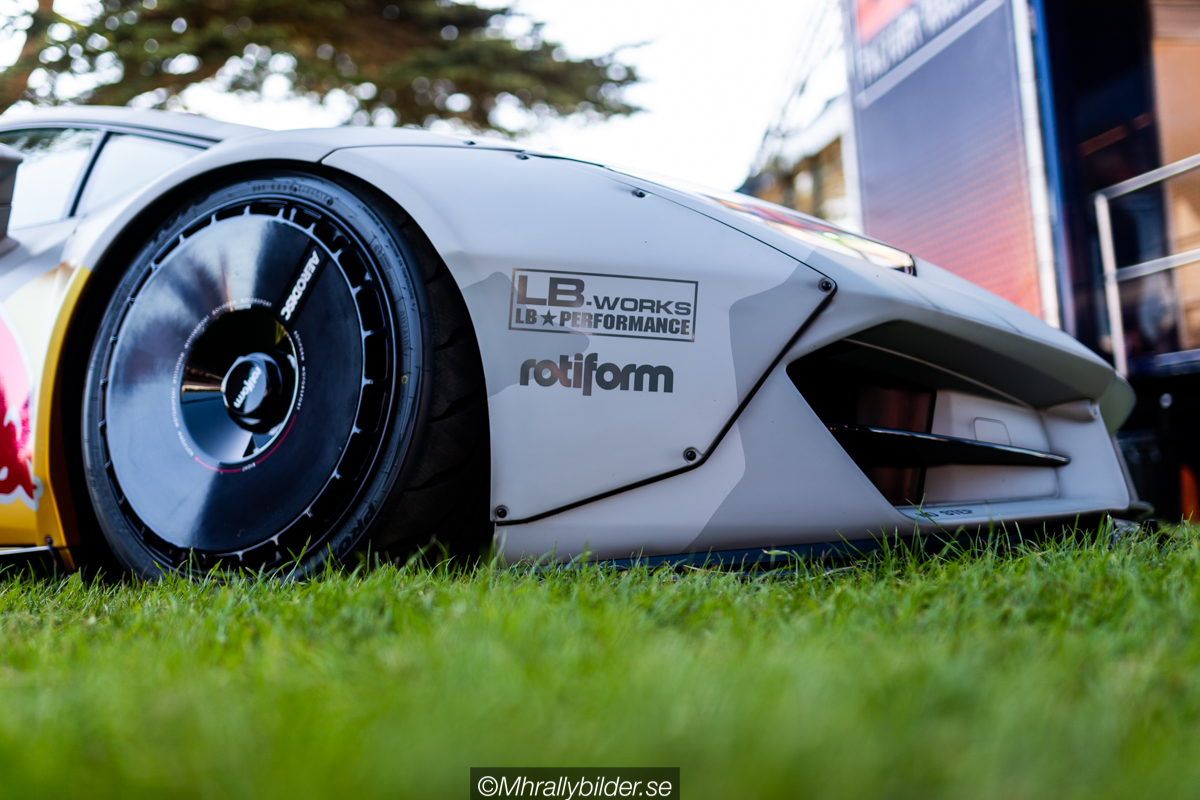 Right..as you can tell I didn't really make it to the arena..but instead I found Mad Mike's new NIMBUL!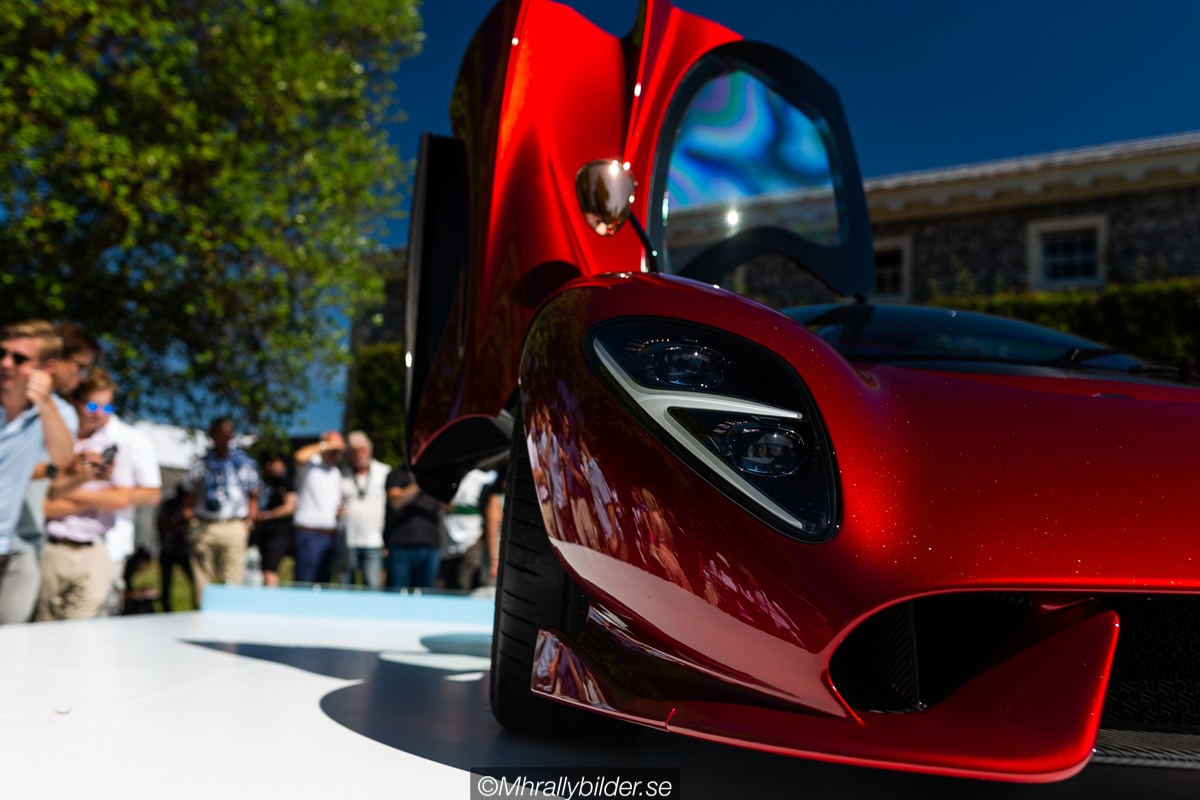 One car I only heard about a few minutes before I saw it was this Detomaso P72, all I had heard before was that they were to show something at Goodwood, and boy did they!
While looking at the car I got tapped on the shoulder by my friend GF Williams (check him out, he's really good), and he asked me what I thought about the car, I said I wasn't
sure, but I thought it would grow on me, and now a few weeks later..I'm totally blown away by it!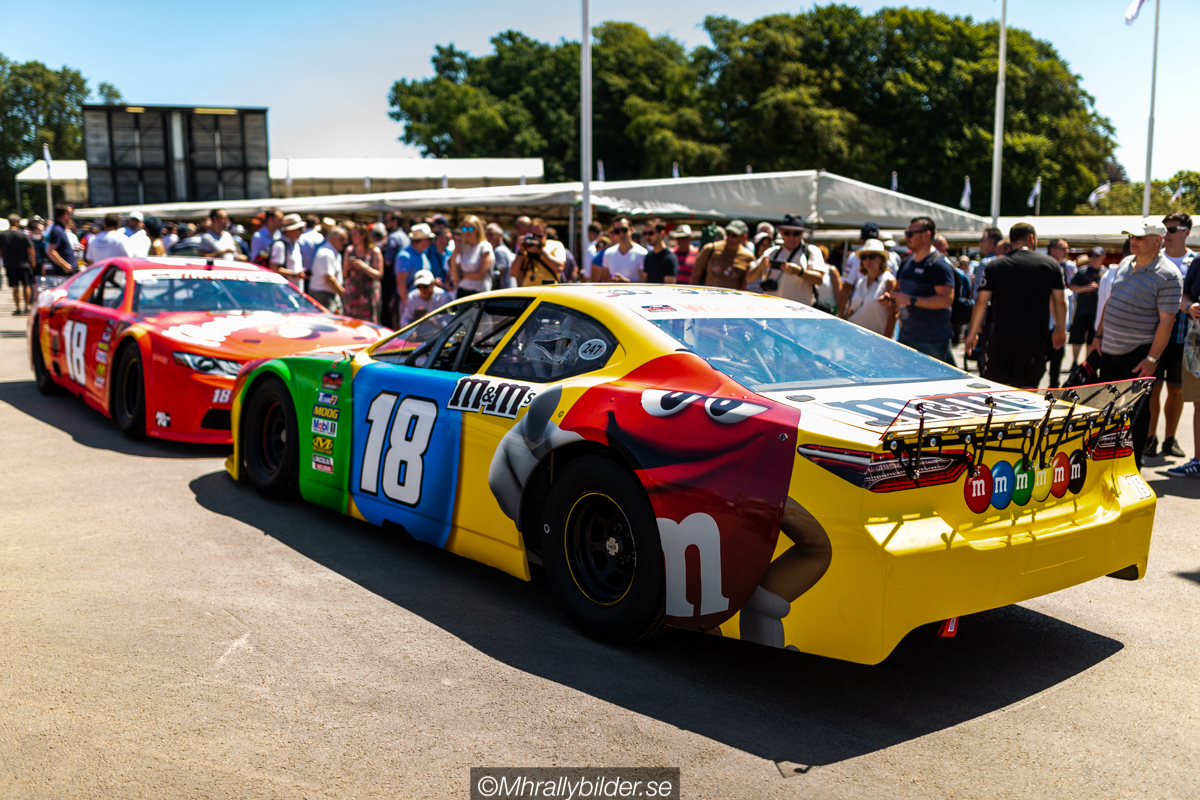 From modern Italian beauty to old school American brute force! (Yes I know they are EuroNASCAR's but they're still very American)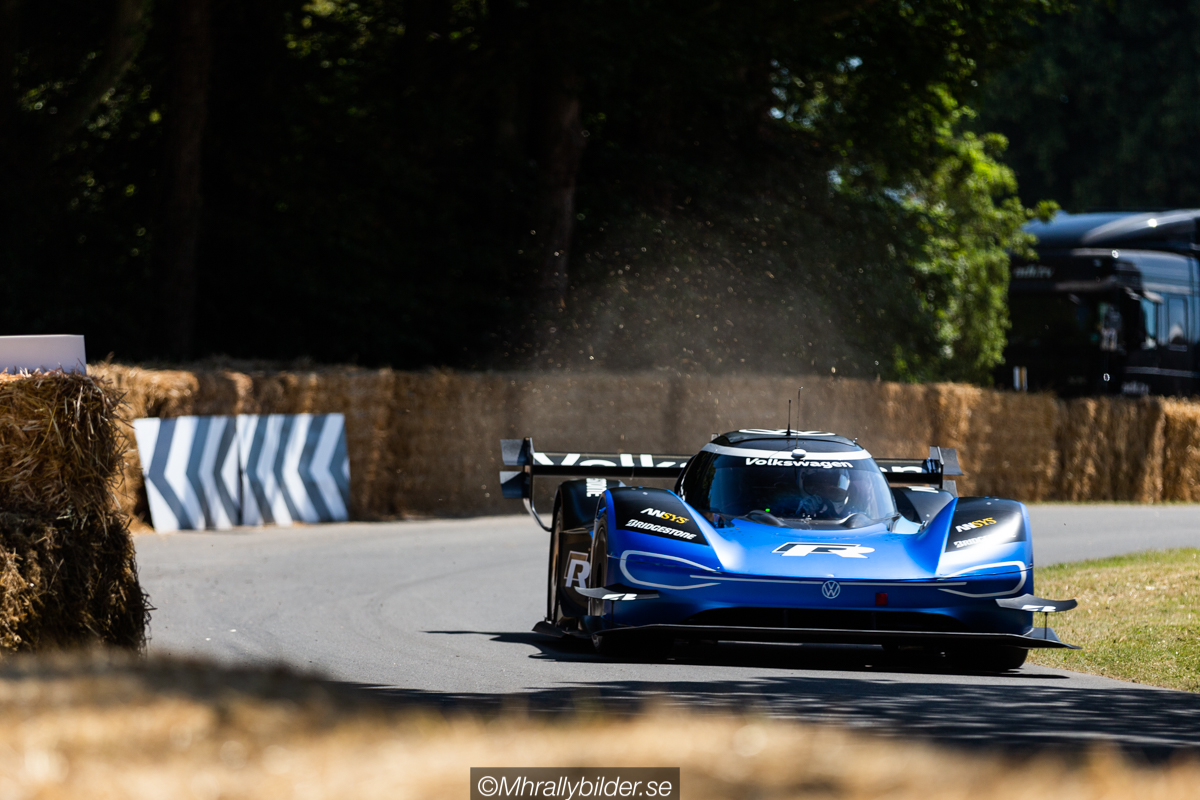 With it being time for the practice for the Shoot-out I made my way to Molecomb to see what's what, and then this terrain-following missile came from nowhere and escaped
just as quick!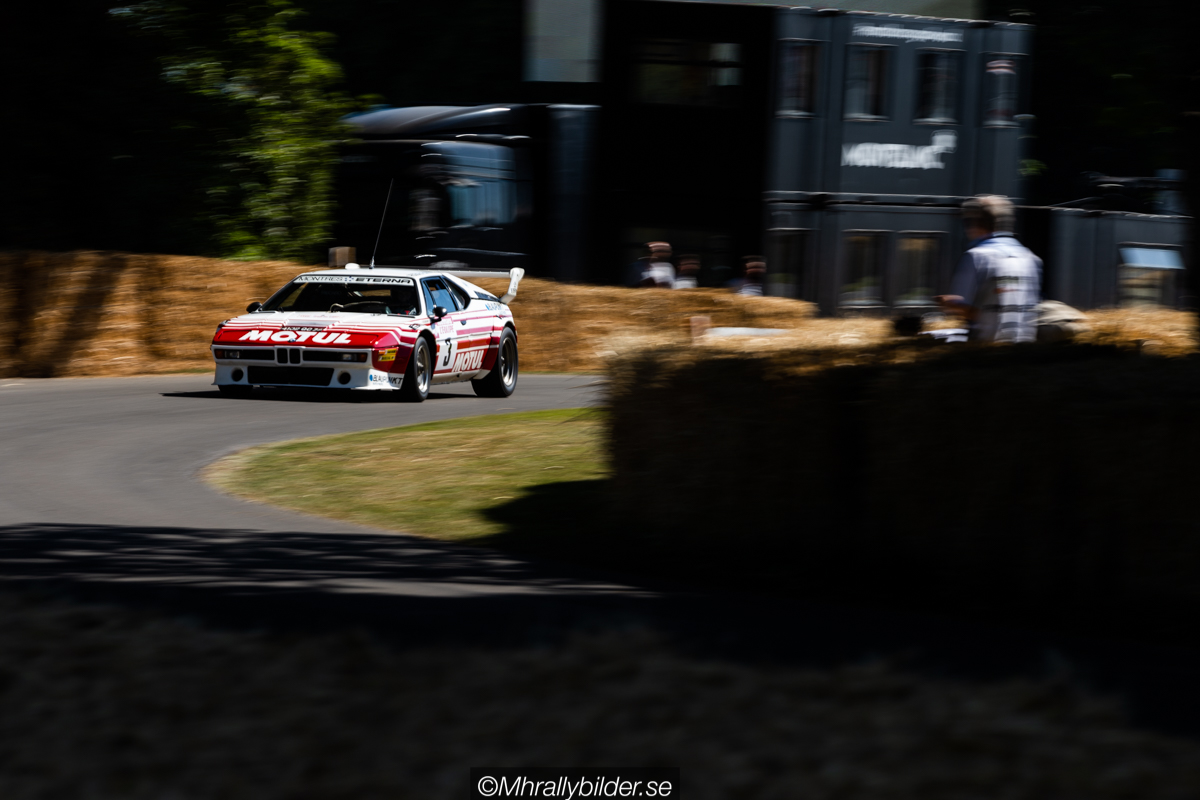 One car that let people enjoy it more was this BMW M1 Rally car! Which was just as good, so I had time to look at it as well as capturing it!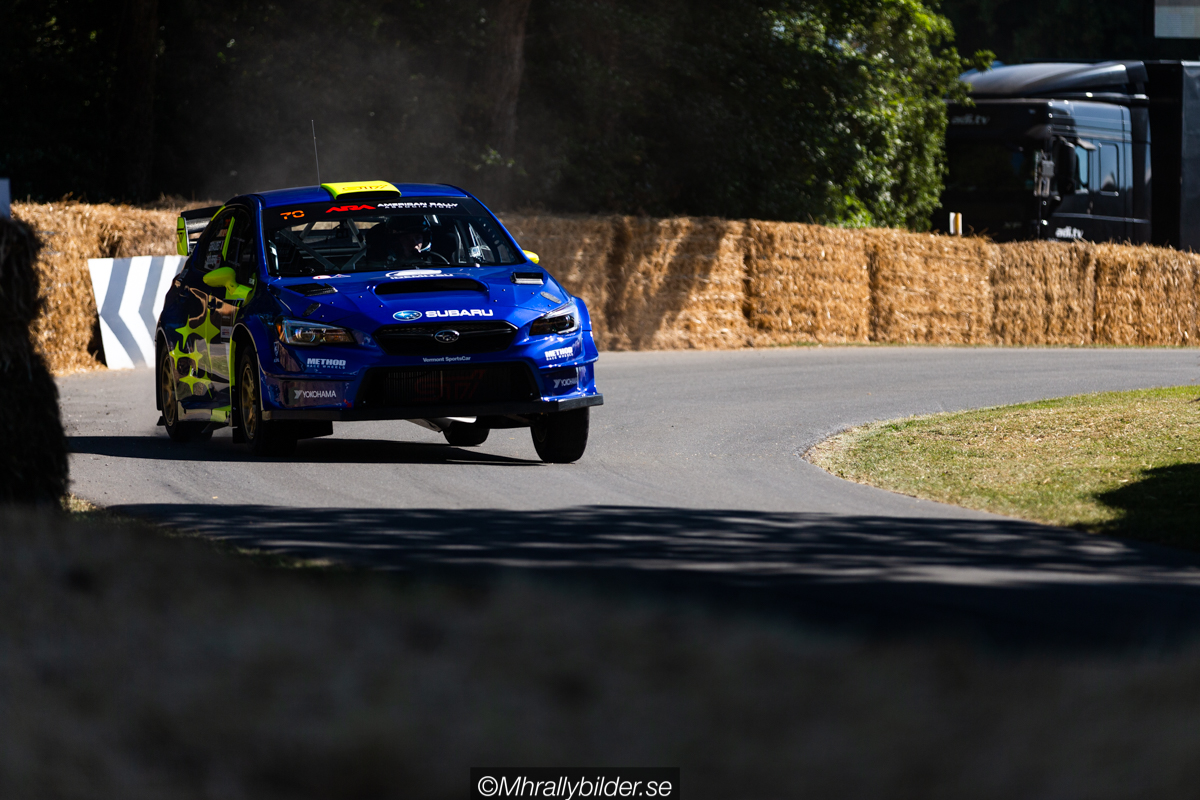 A guy that didn't let people look too long on his cars was Oliver Solberg, he certainly showed people that going fast runs in his blood!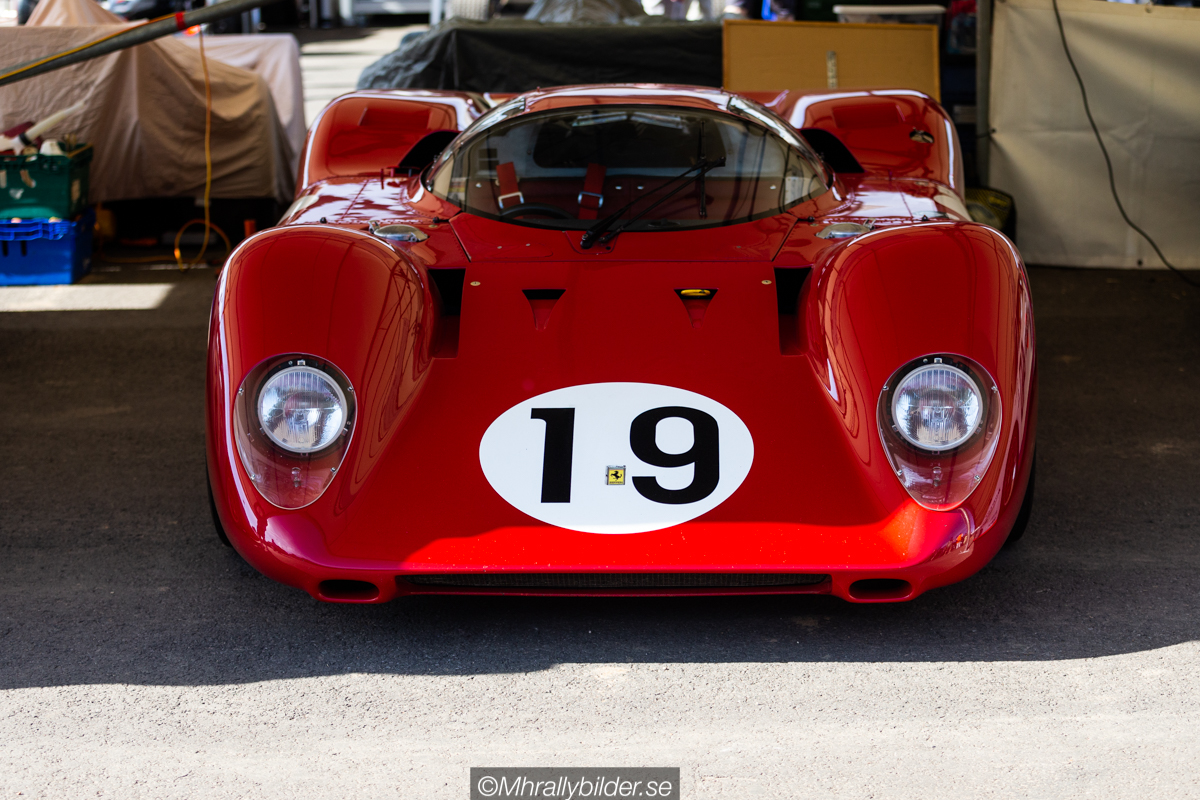 With a new try to get to The Arena I walked past this lovely Ferrari 312….3 for the capacity in litres and 12 for the quantity of cylinders, back then it was simple to name a car!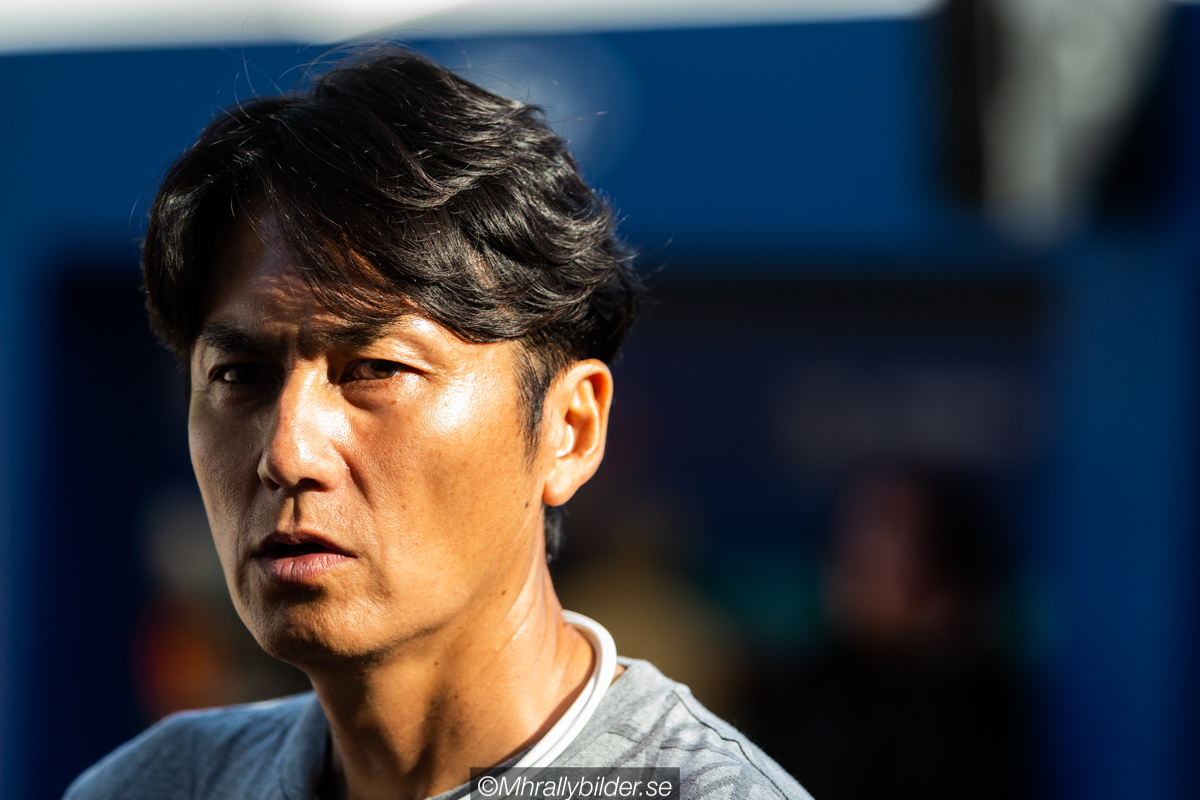 I made it to The Arena…just after they had closed for the day…so I grabbed this photo of the legend that is Nobuteru Taniguchi and then I went to the hotel..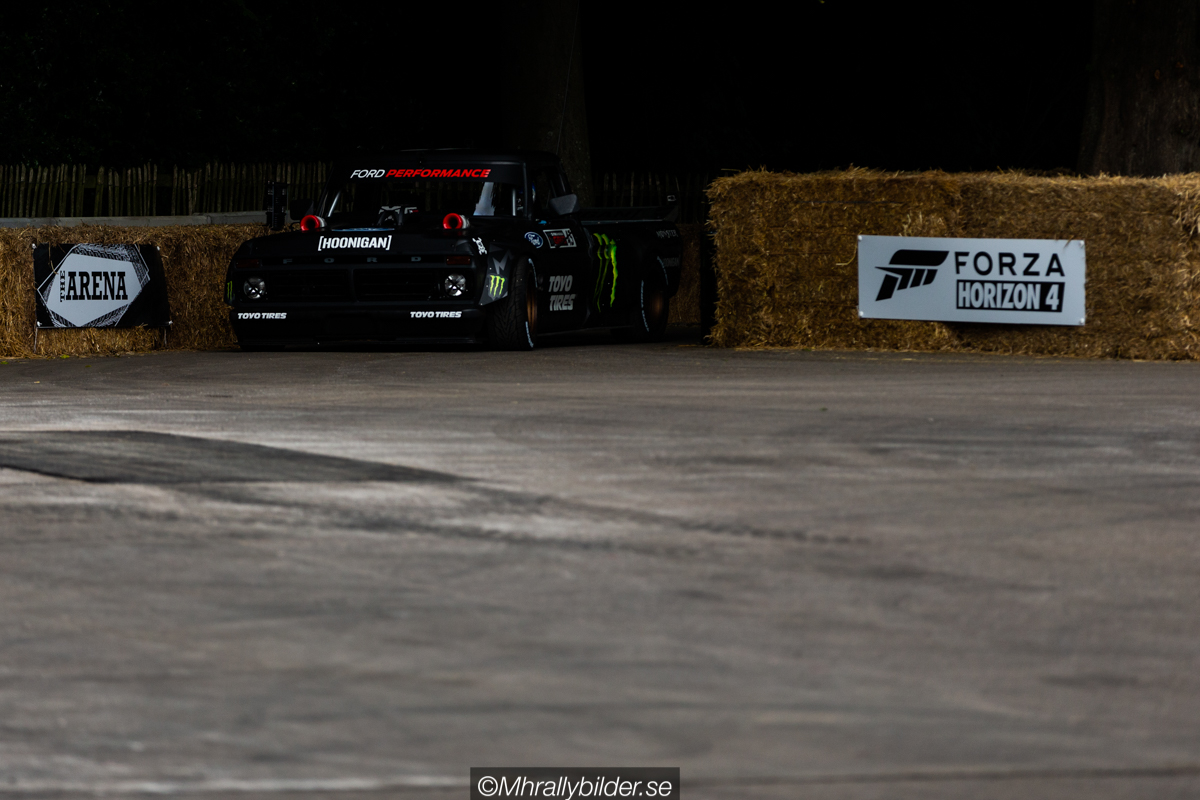 But the following morning I made my way to The Arena first thing in the morning, and first out on it that day was none other than HHIC (Head Hoonigan In Charge)
himself, Ken Block. As you can see he was driving his Ford F-150 "Hoonitruck", and all I can say about that build is WOW!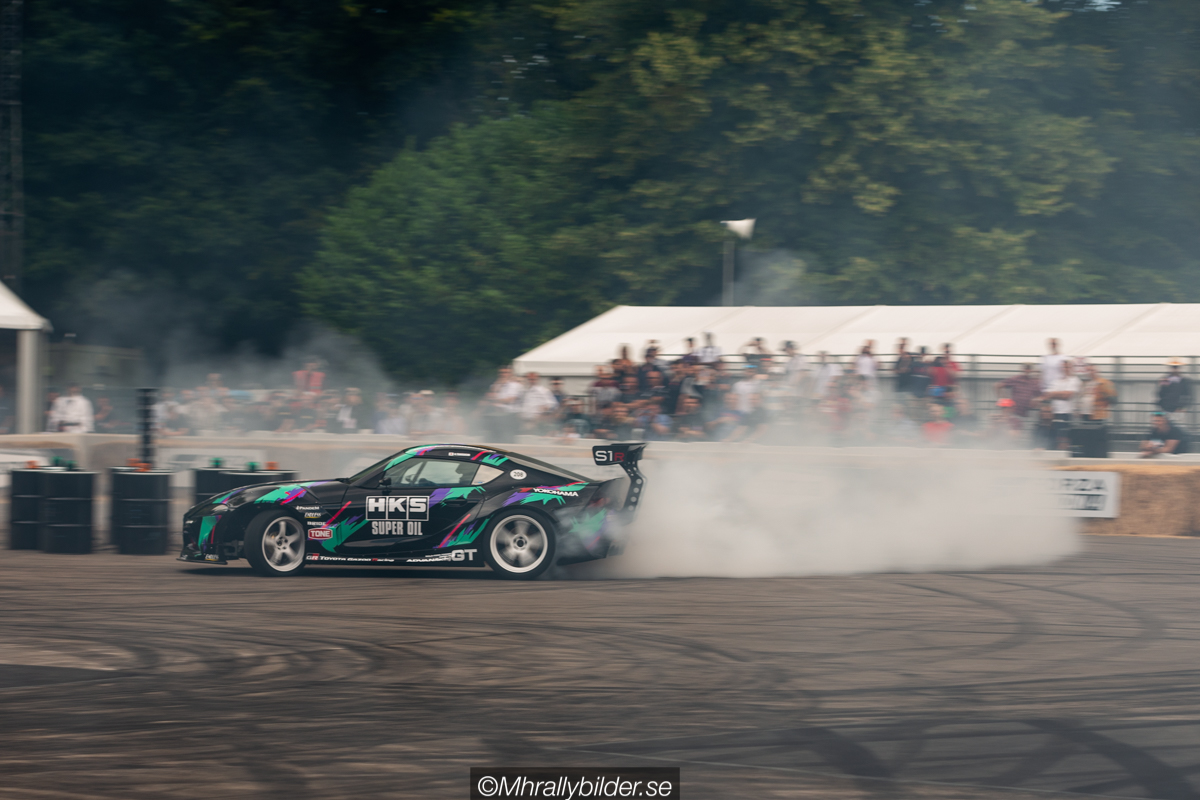 After Ken and some of the drift drivers had been out I made my mind to see one more car and then "put the long leg first" (a saying in Swedish) towards T1 for the
rally/drift/touring cars to go up the hill, and when I saw that it was Nob himself that was to go onto The Arena I was absolutely thrilled!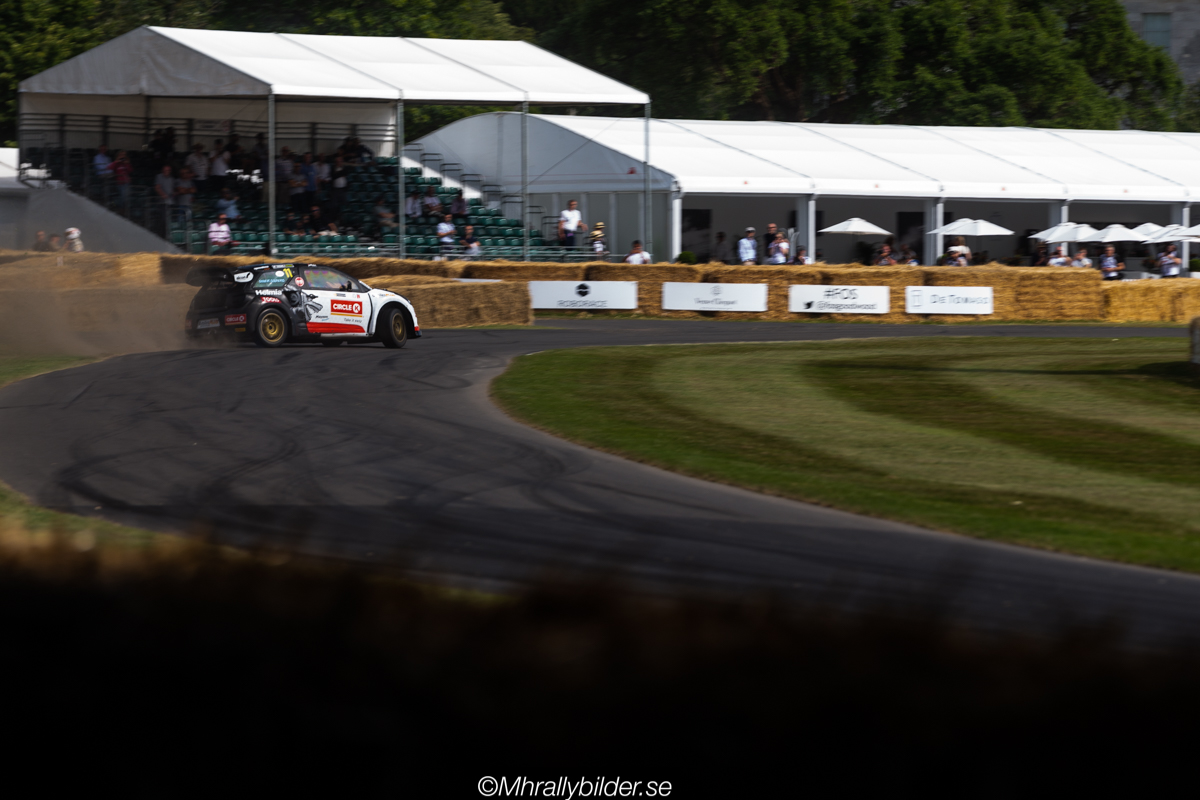 As I said, I made my way towards T1, and from where I decided to stand I could get a good view to T2 as well, and the best attack into T2 was none other than Oliver Solberg!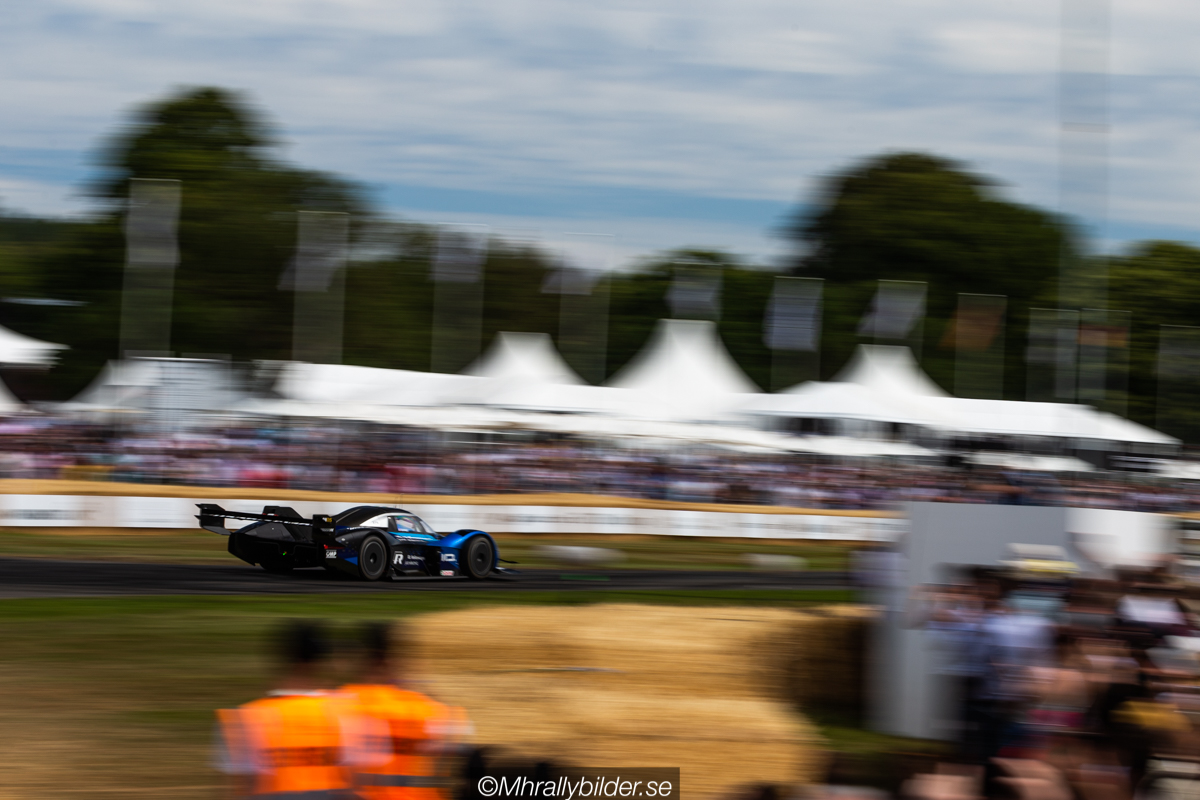 A while later I stood on the opposite side of the house, to try and get that in the background of the shot..for the most it went well..then this contraption went past at a
ridiculous pace!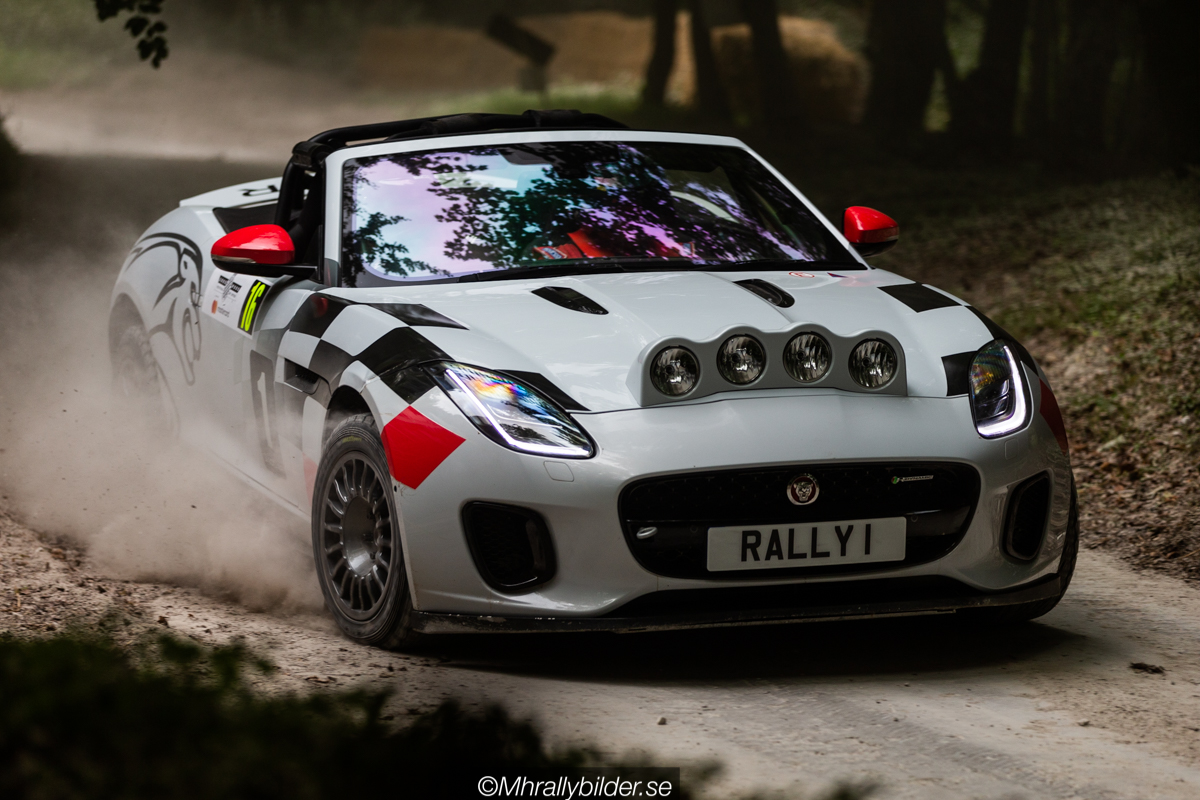 I couldn't call myself a rally photographer without visiting the rally stage right? and what is more rally than a Jaguar F-Type with its roof down, not much right?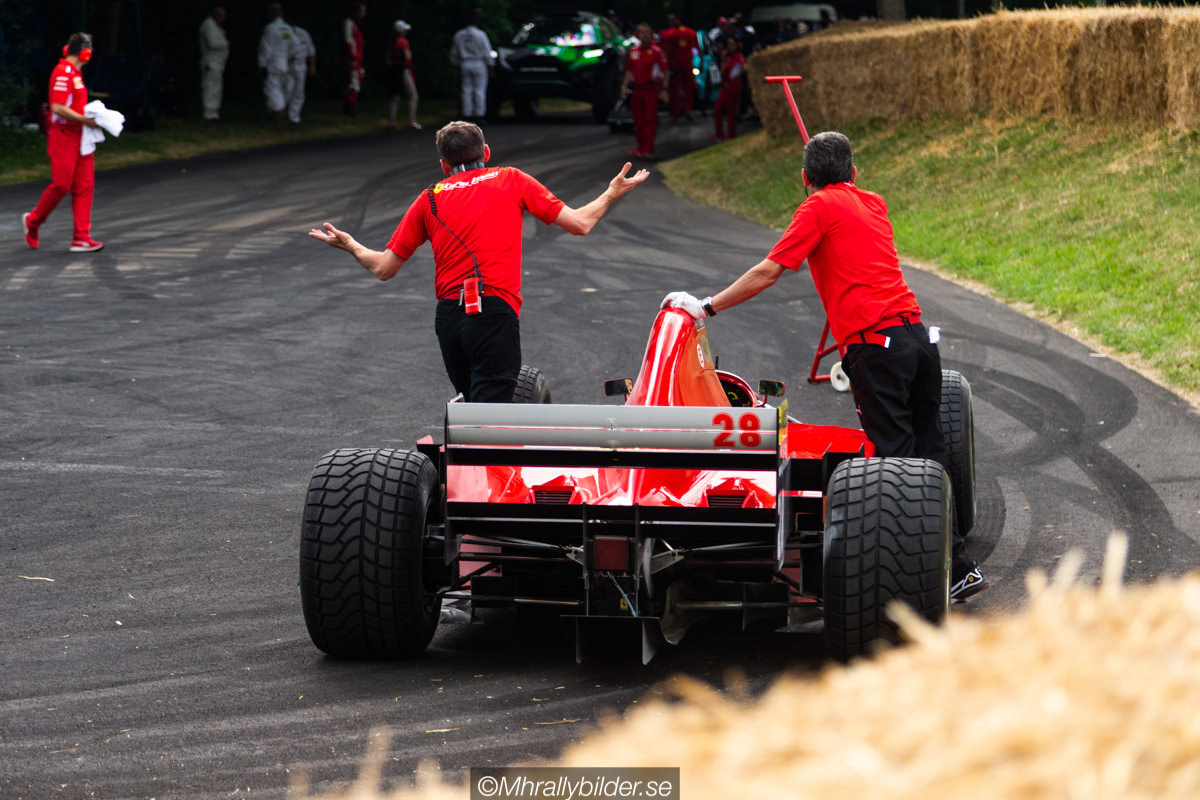 When I had been as far to the top as I could I decided it would be a wise move to go to the bottom of the hill…and when I got close to the bottom I noticed it was F1 cars
that was next to run, so I hurried up as much as I could to try and get some donuts or something at the bottom. All I got was this Ferrari and a man clearly not knowing
what had happened..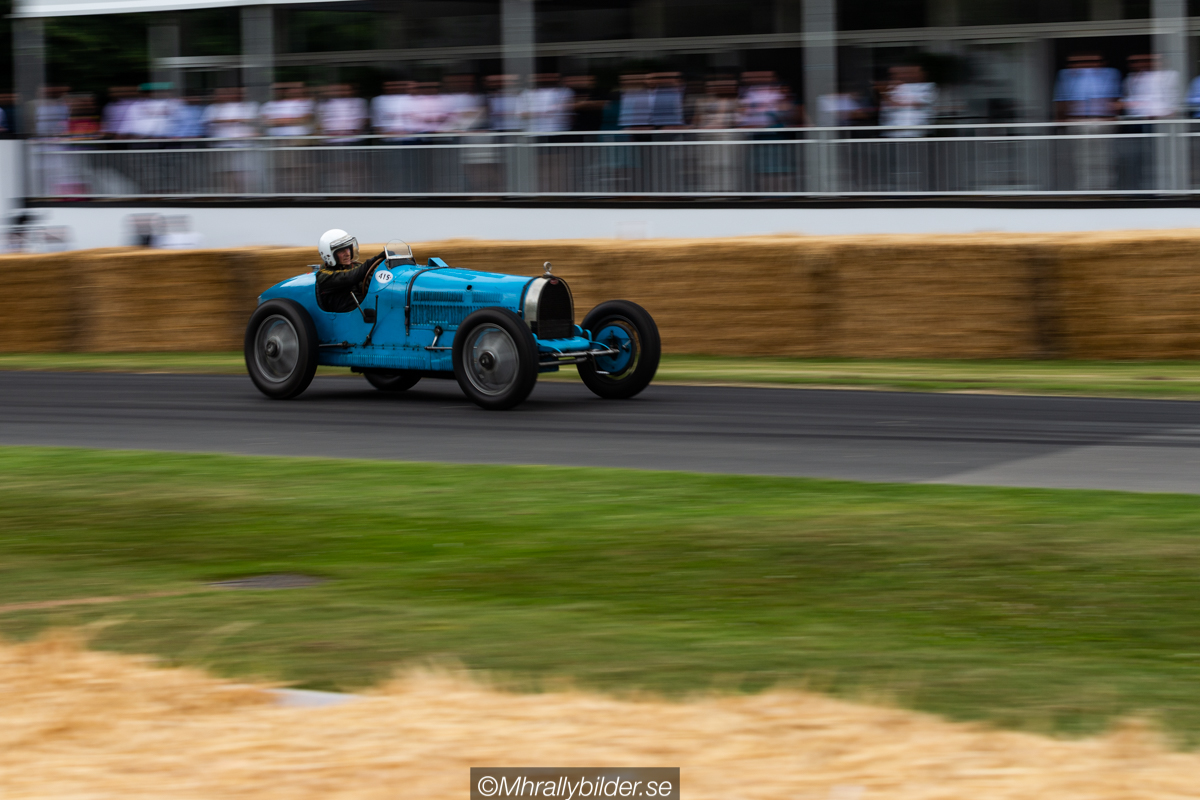 Time for Shoot-out timed practice, and this man tried his hardest when he went through T1 with "arms and elbows" as the speakers called it, all I know it that it was brilliant
to see an old Bugatti being driven like that!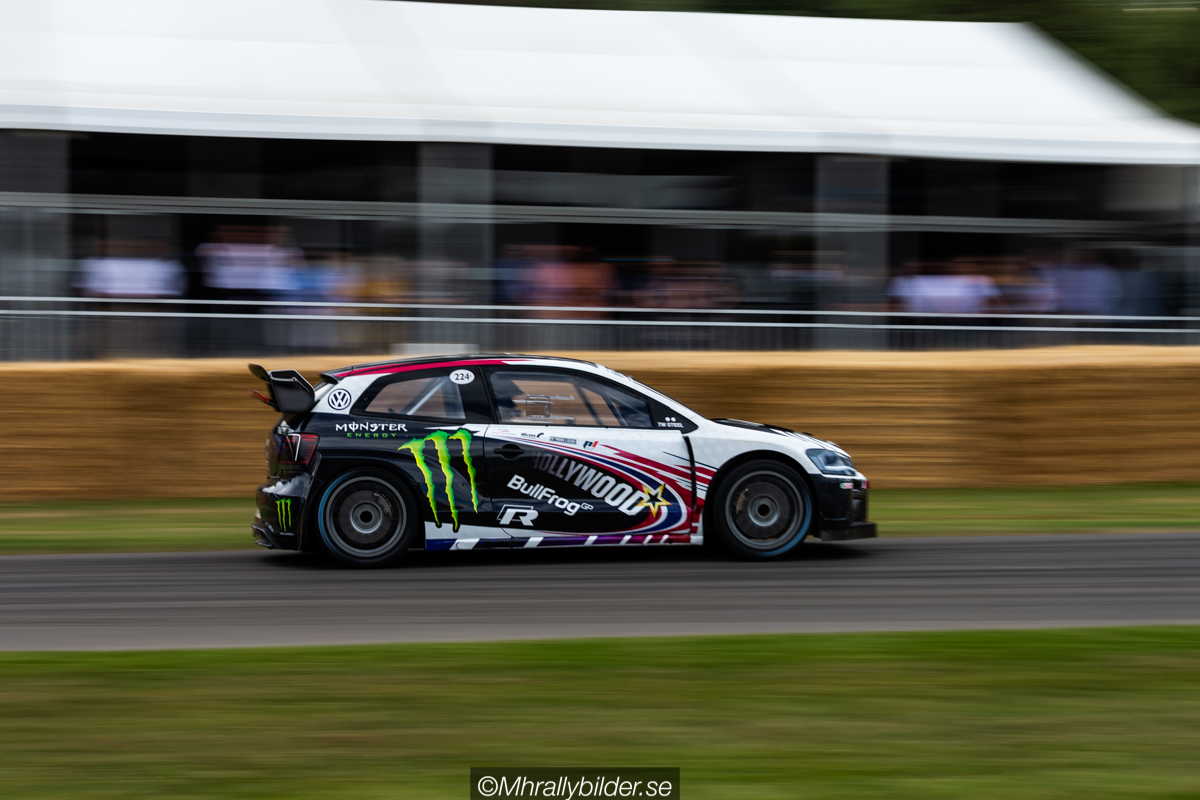 A while later Petter Solberg came into view slightly slower than he disappeared, because he managed to build up some sufficient speed between T1 and T2!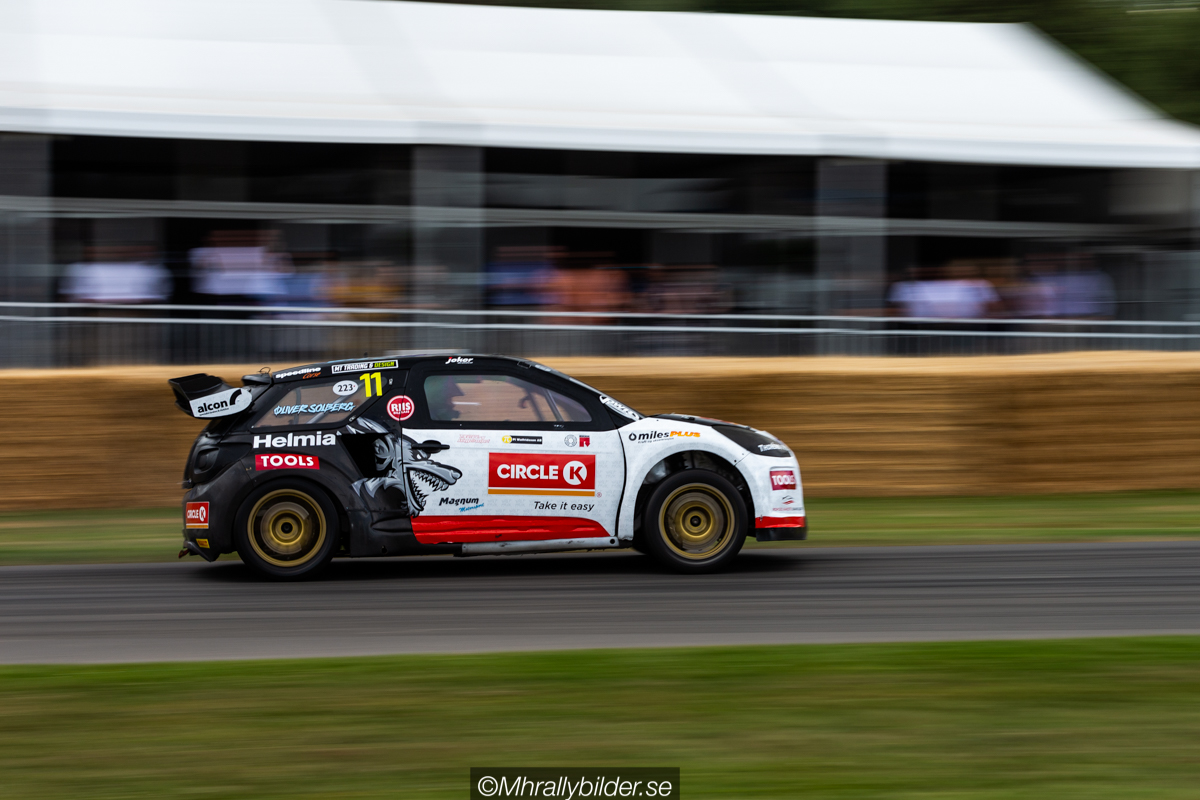 Not long after Petter came Oliver, and much like his father he was traveling at a speed that would scare the average driver!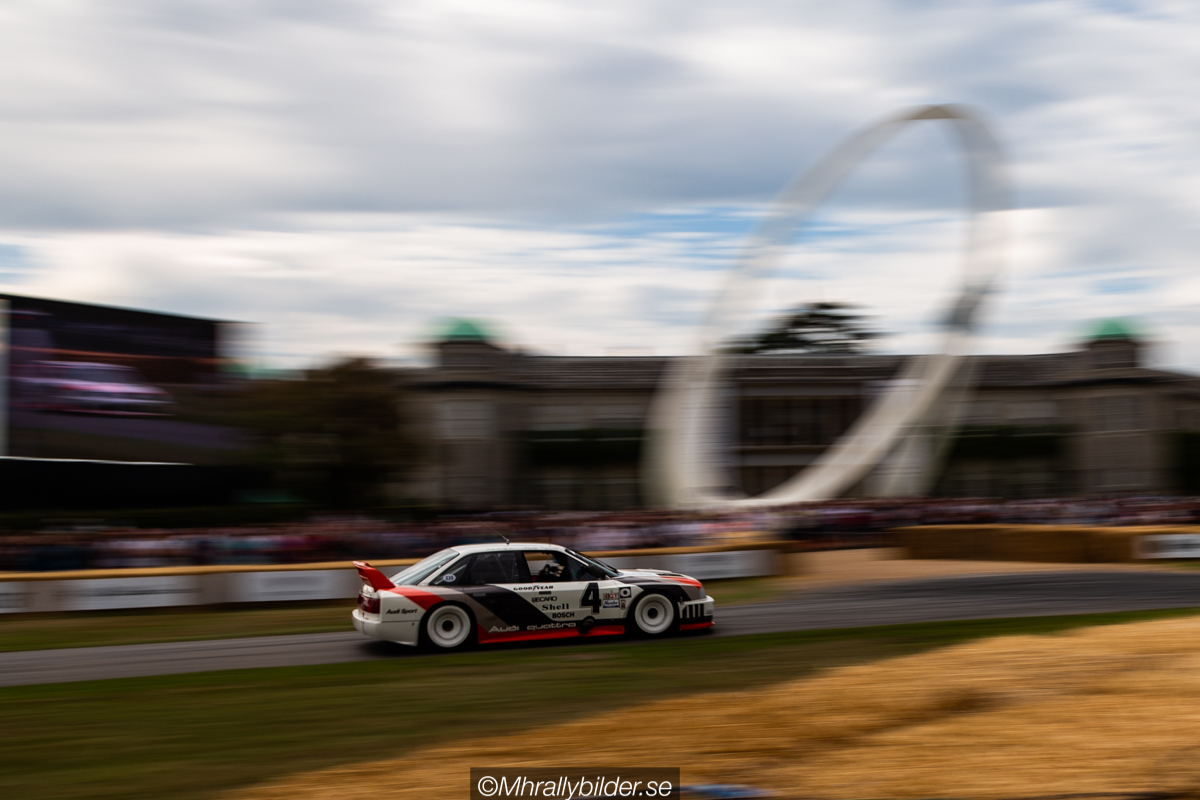 When the timed practice was done I went back to opposite the house to try again to get the shot I wanted, and this time I made it!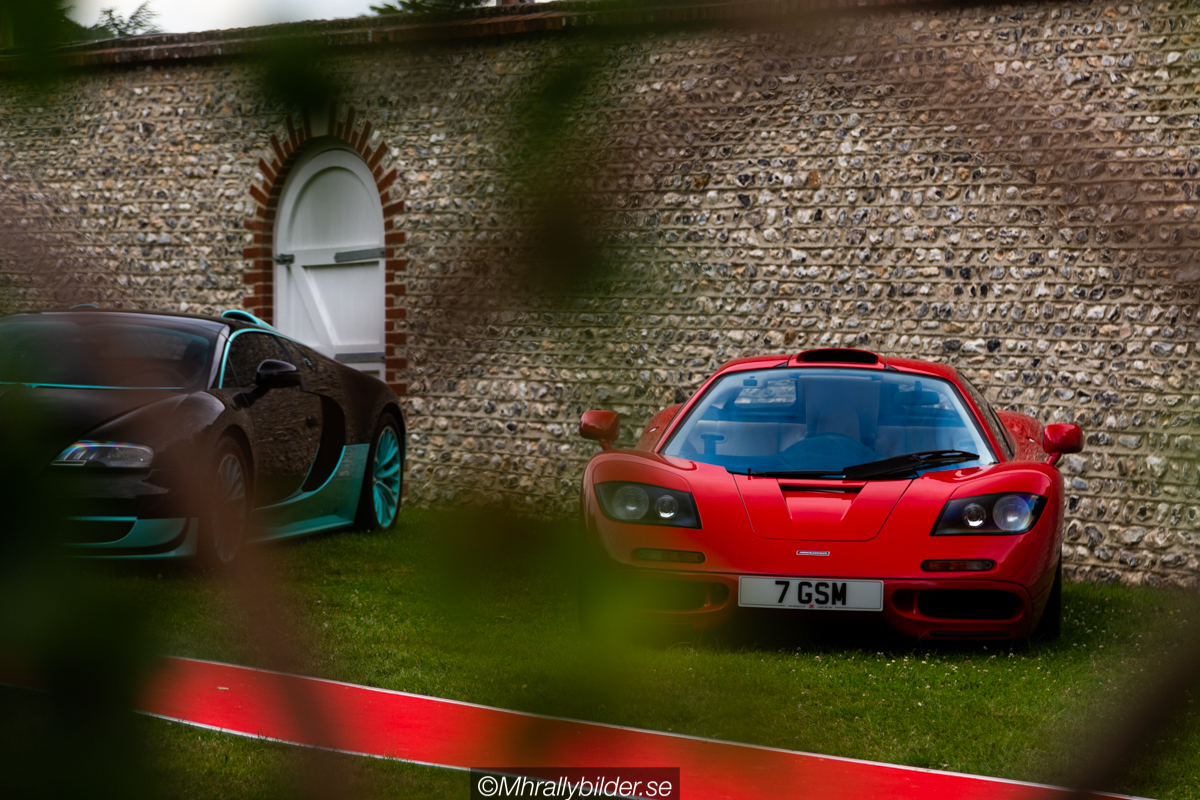 When the day came close to and end I went up to the entrance to the Drivers Club to see what they had parked outside there for this year, and this year it was four different
yet similar cars. It was a Lamborghini Miura, a Ferrari F40, a McLaren F1 and a Bugatti Veyron! I think all of them were the cutting edge of their time, and all of them are
still very special today!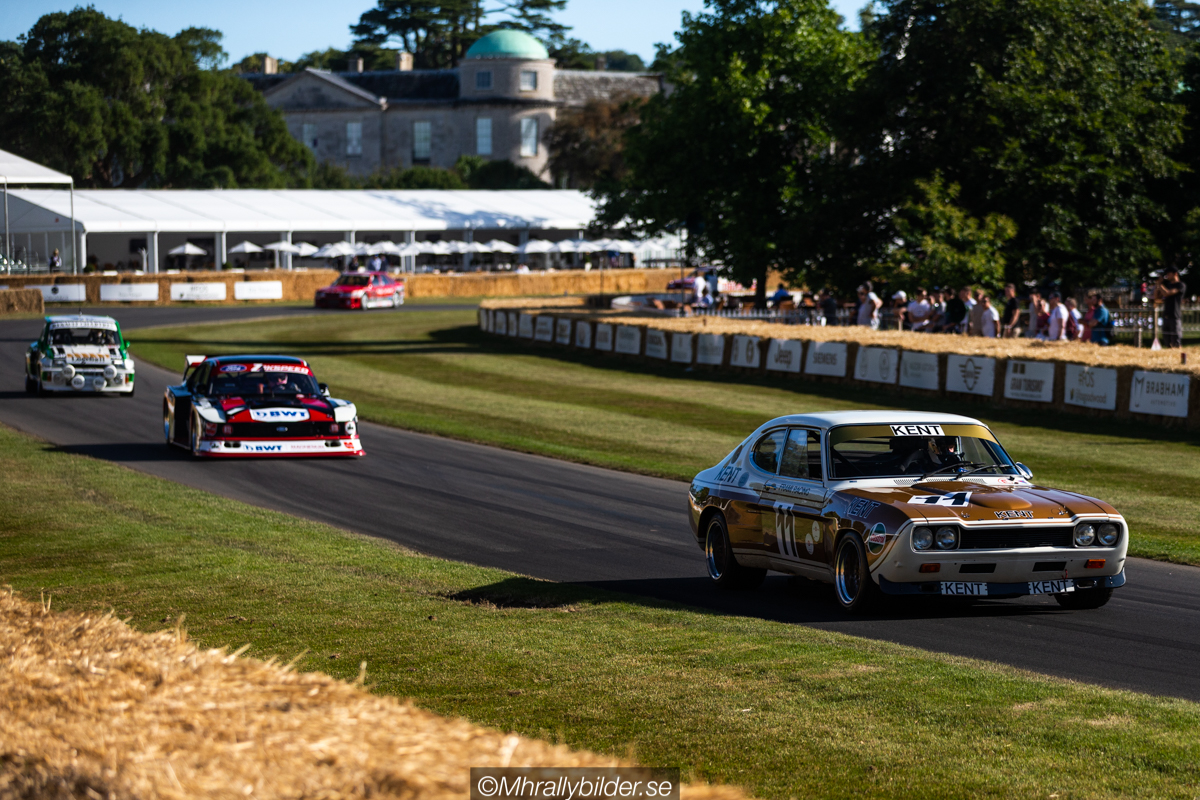 Saturday morning and greeted by lovely sunshine and race cars, it doesn't get much better does it?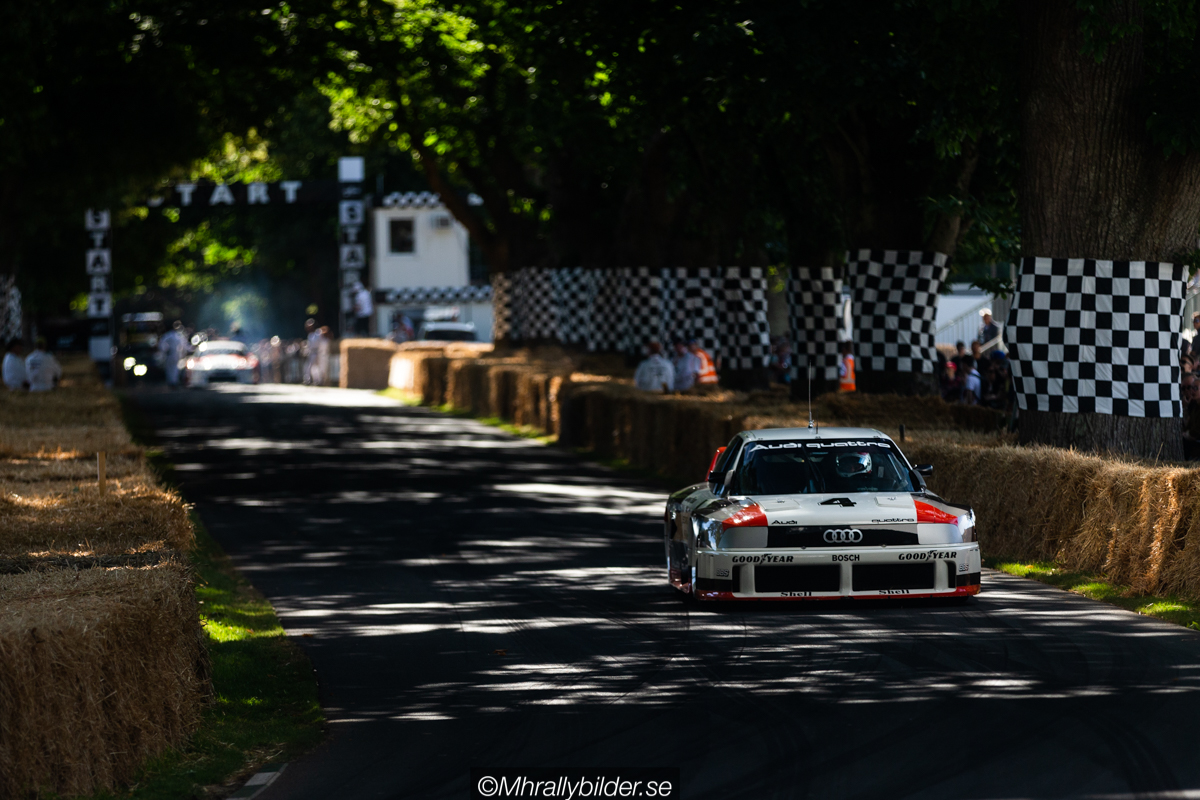 It got better, because I finally got to hear the Audi 90 IMSA GTO stretch its legs and coming towards me (yes, intake noise is where it's at, exhaust noise is something you
leave behind you!)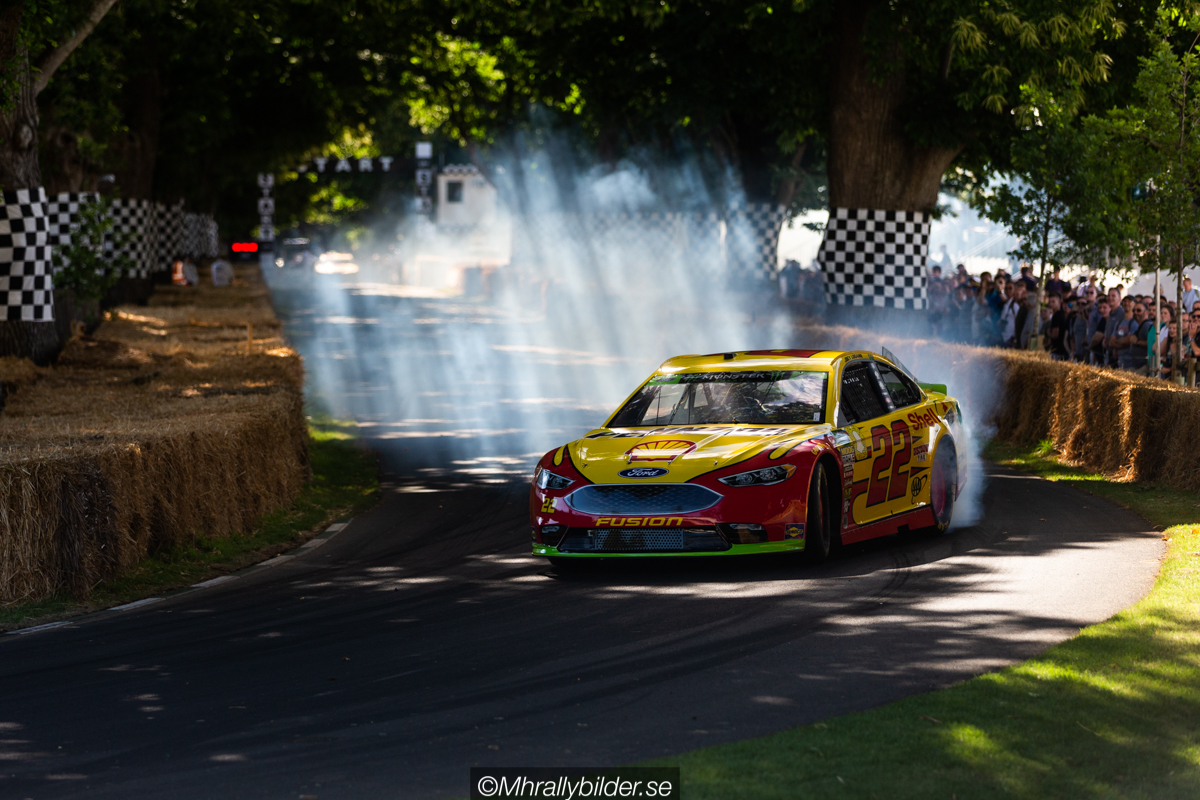 Even NASCAR's sound amazing when coming towards you!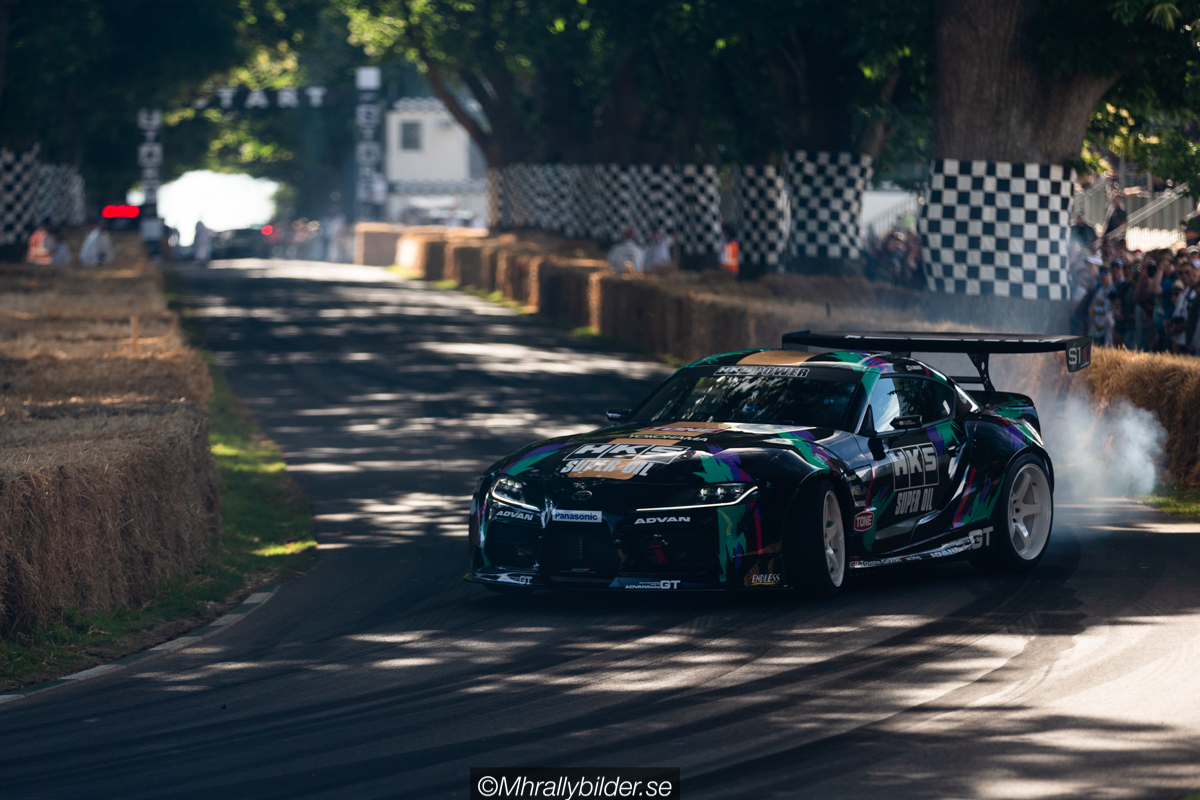 So did this Toyota Supra A90 built by HKS, but it was kept quiet because of some mechanical gremlins..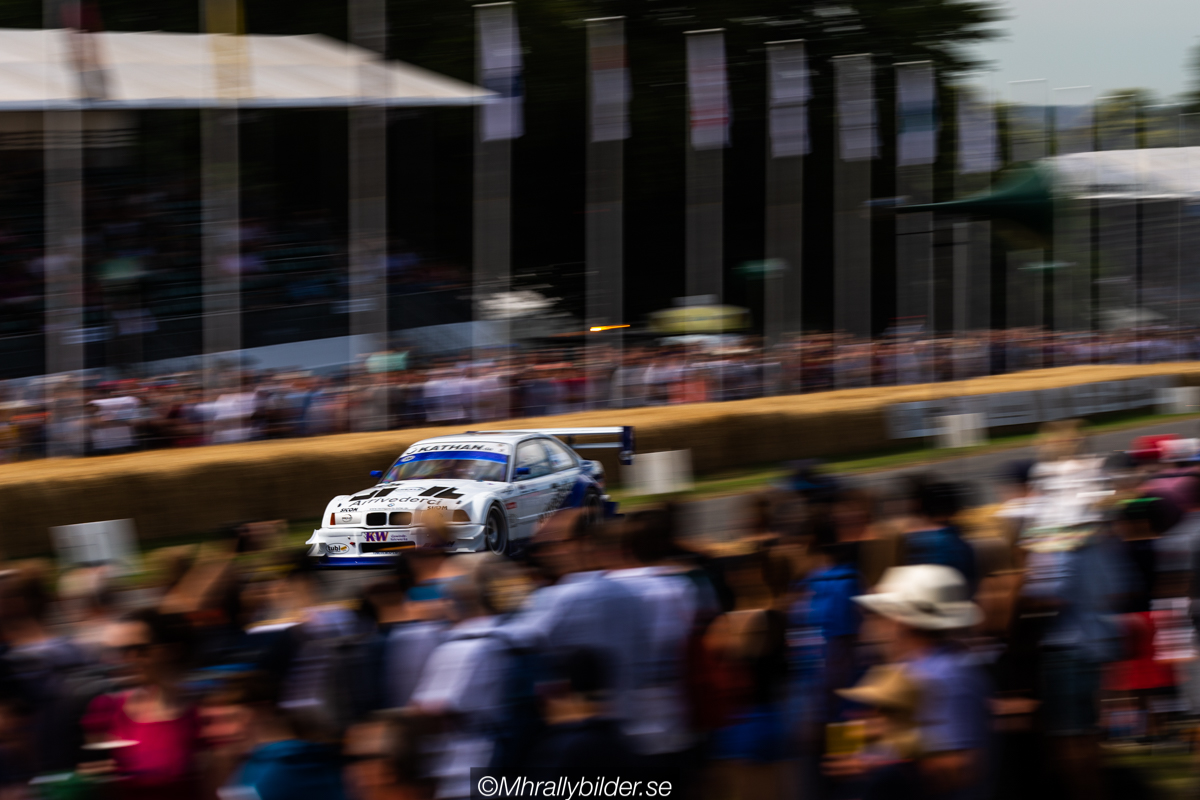 One car that wasn't quiet but I think plagued with mechanical problems was the BMW E36 driven by Jürg Weidinger, but with it's JUDD V8 it still sounded amazing!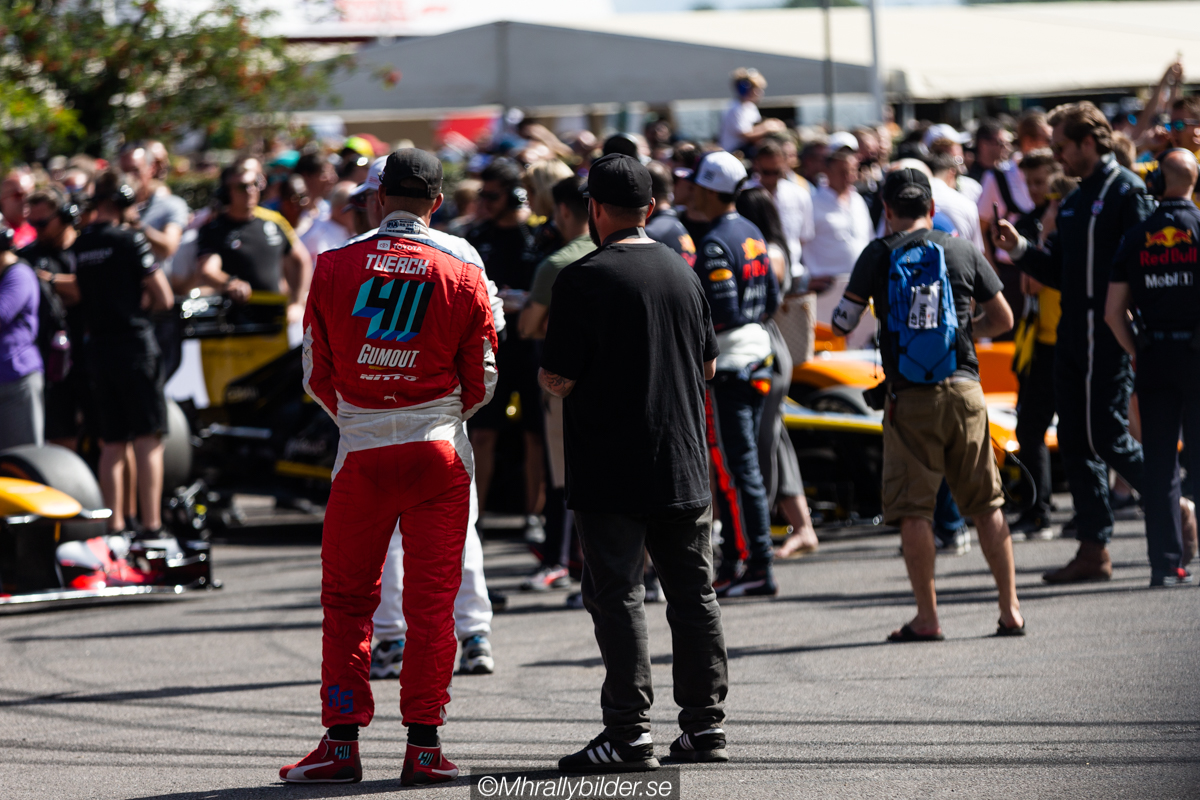 When I walked by the Assembly Area and I saw Ryan Tuerck checking out some F1 cars the only thing I could think of was that he must be planning a new build and needs inspiration for a new engine..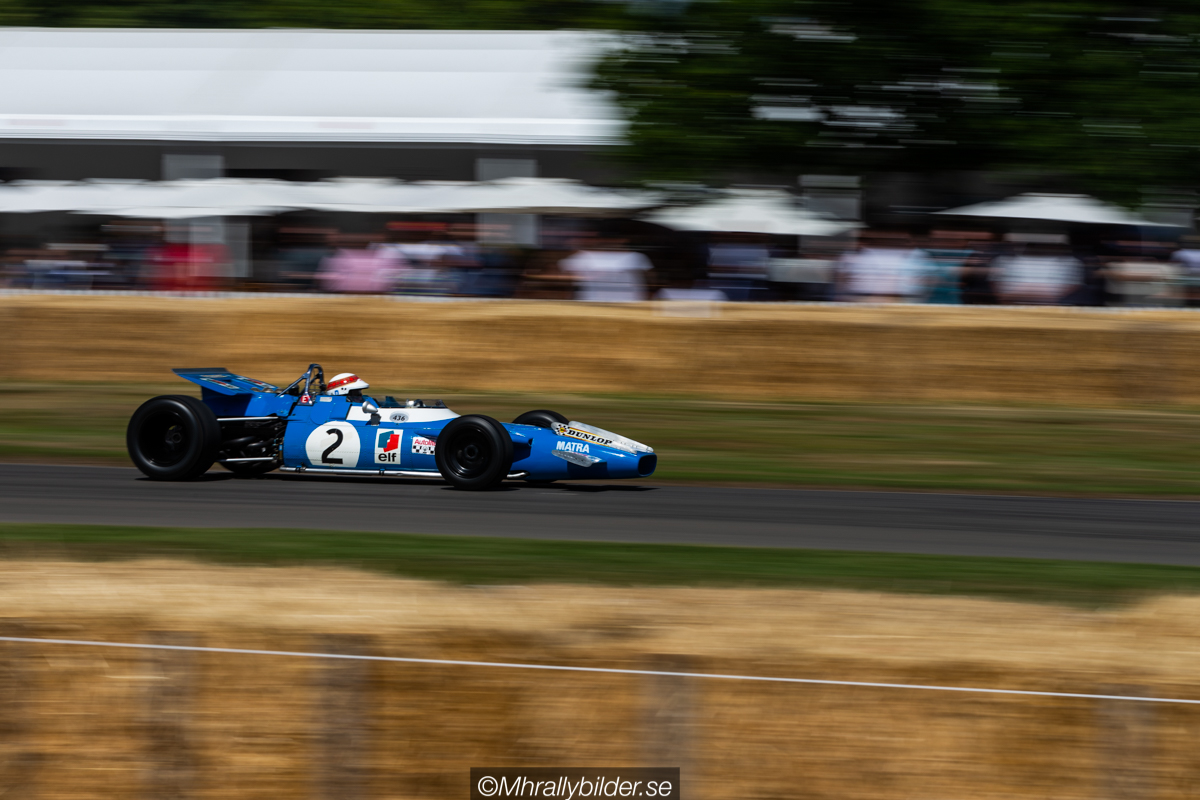 F1 cars often mean hero drivers, and this time it was correct, because here you can see Sir Jackie Stewart in one of his old cars!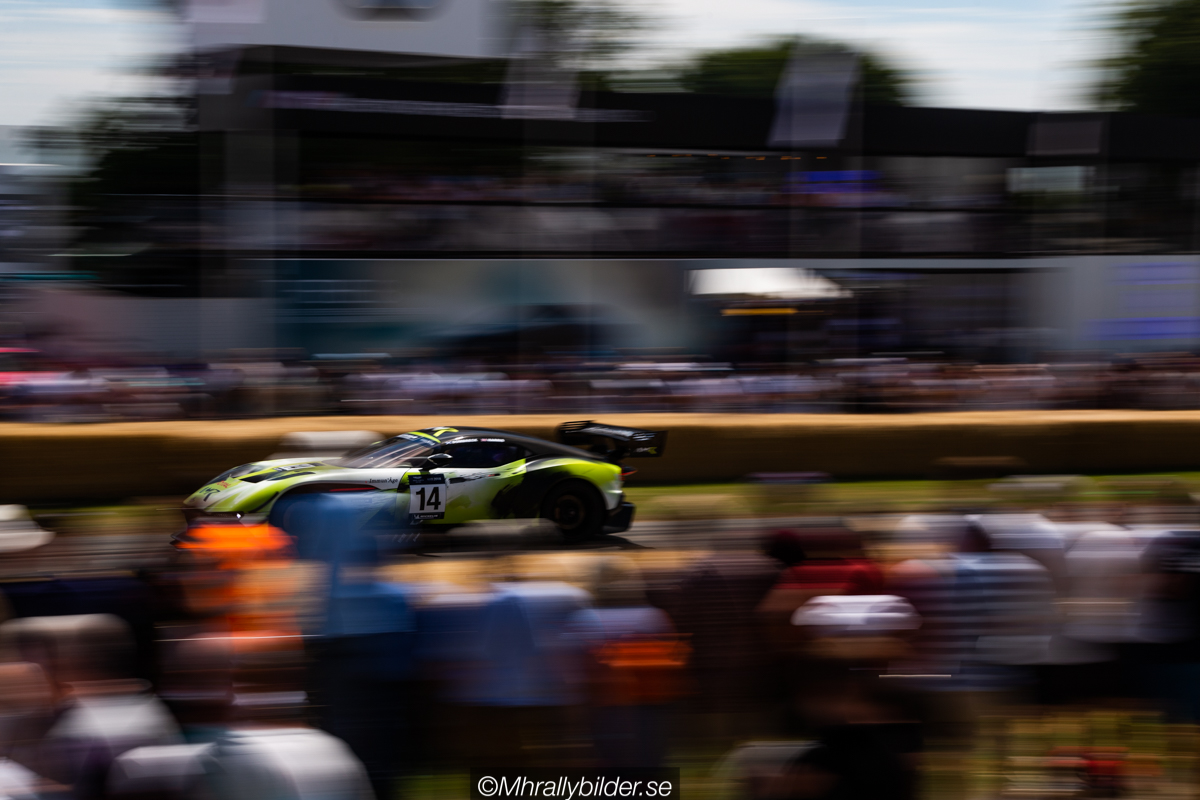 After having watched the F1 cars go up at crazy speed, and having had a really good lunch I went back to the spot where I took the picture of Weidinger, because it was such
a good spot (for me).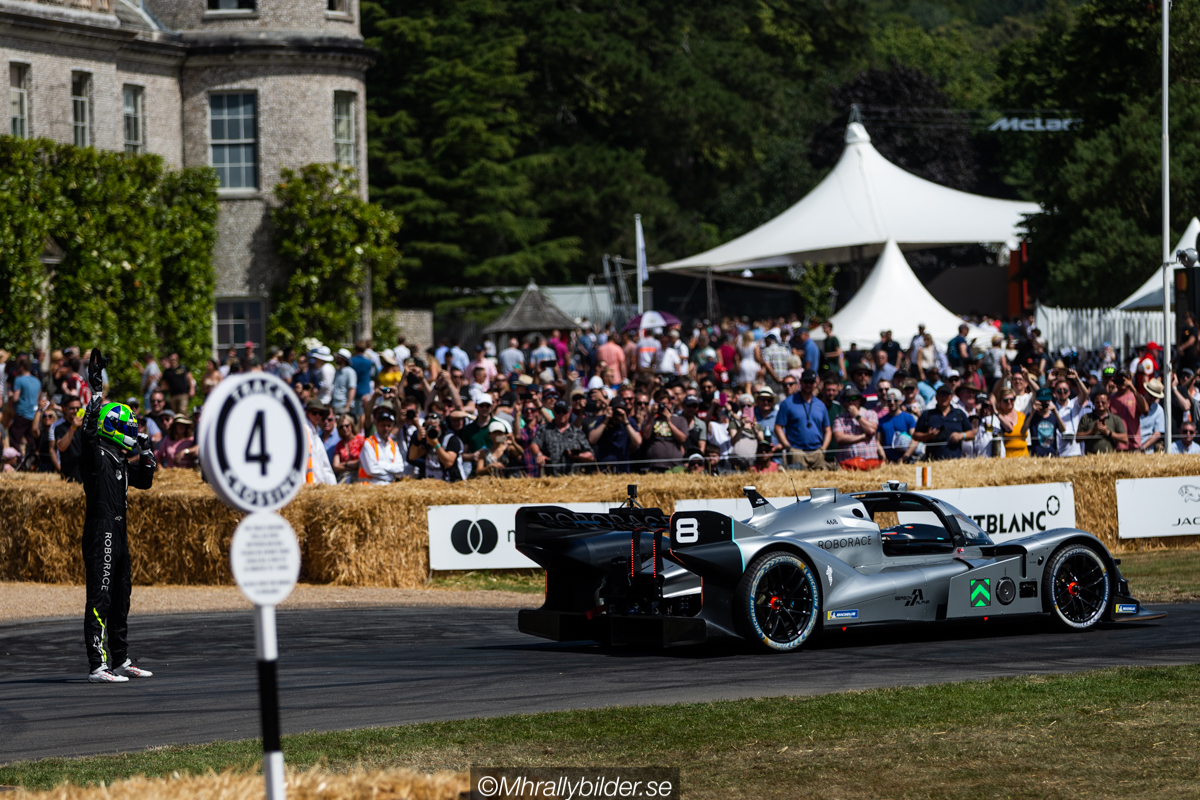 This was really awesome to see, the DevBot 2.0. As you can see the driver has stepped out of the car and the green arrows on the side indicates that the car has set off on its
own! How awesome is that?!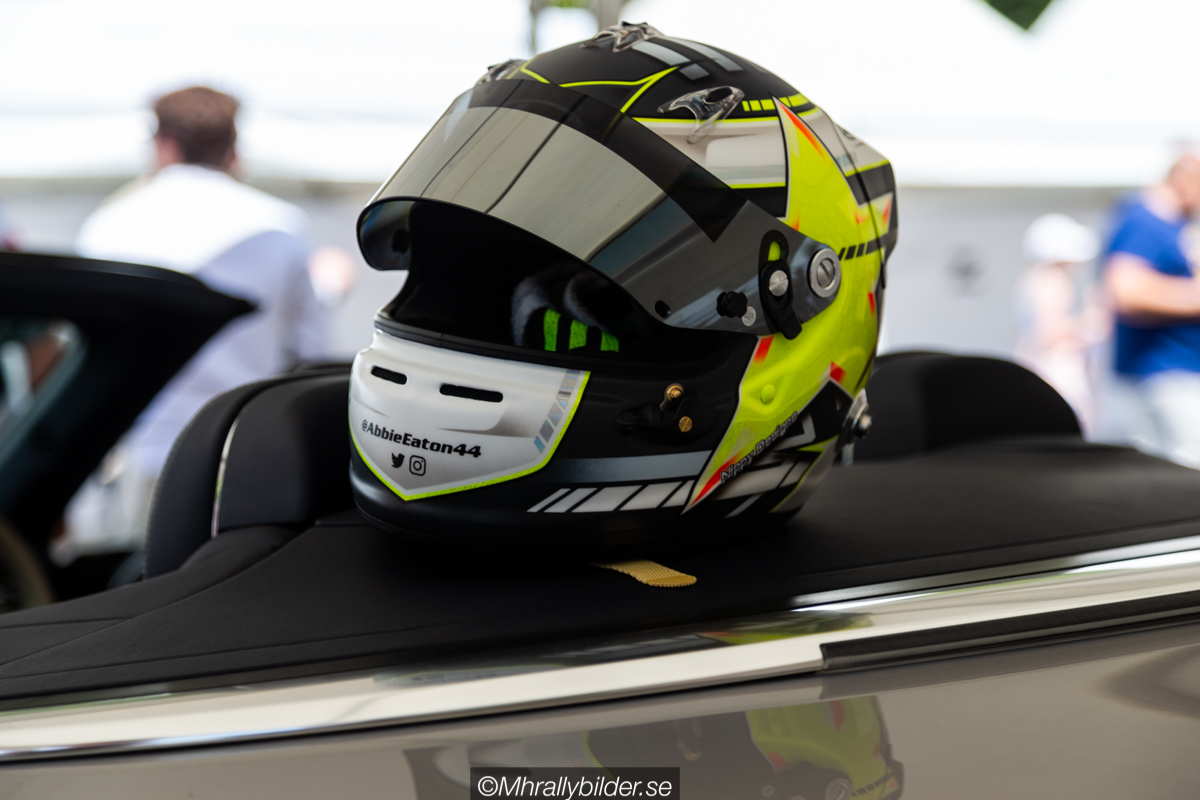 When I felt done track side for a brief moment I made my way to the Michelin Super Car paddock to take in the sights and try and get some details of the cars there…
But every car except this Bentley was impossible to get a picture of, and to me it would've been the opposite, because this Bentley was driven by the owner of this helmet,
and if Abbie Eaton doesn't ring a bell to you, she is the test driver on The Grand Tour!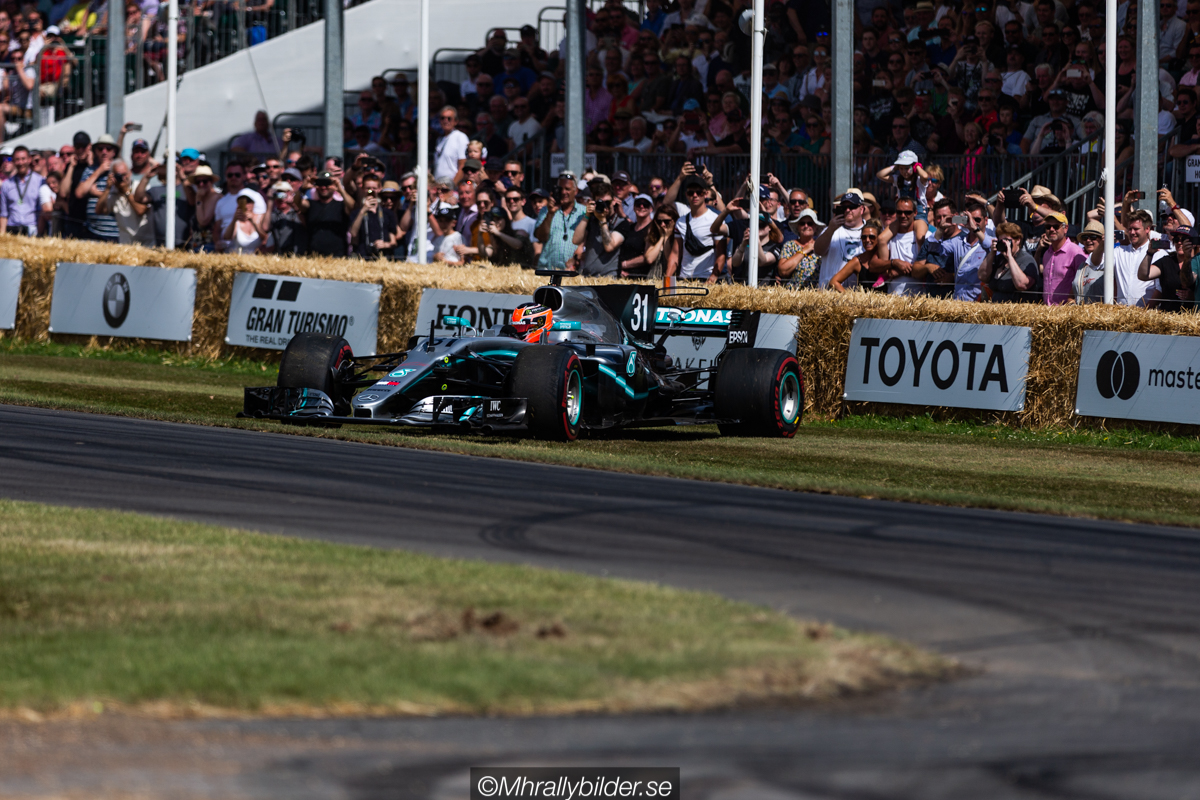 When I had relaxed for a bit and looked at some supercars I made my way to the hill just for the F1 cars again, and when I saw how they drove on the way down towards the
start line I knew I was in for a treat, and when Esteban Ocon came and started doing donuts on the grass I couldn't help but smiling!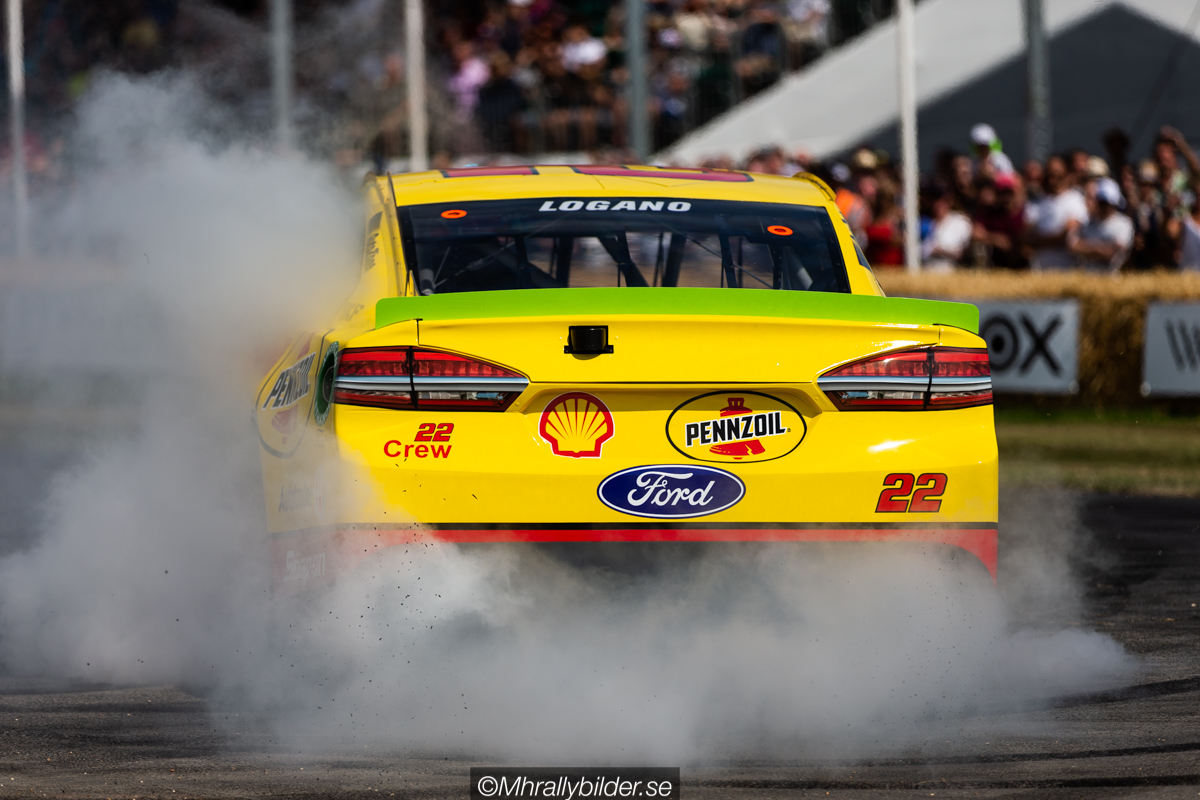 A while later it was time for the Touring- and Rallycars, and when this man in his NASCAR decided to just let it sit close to red line and eat tyres I swear I could see some
bald eagles flying over us!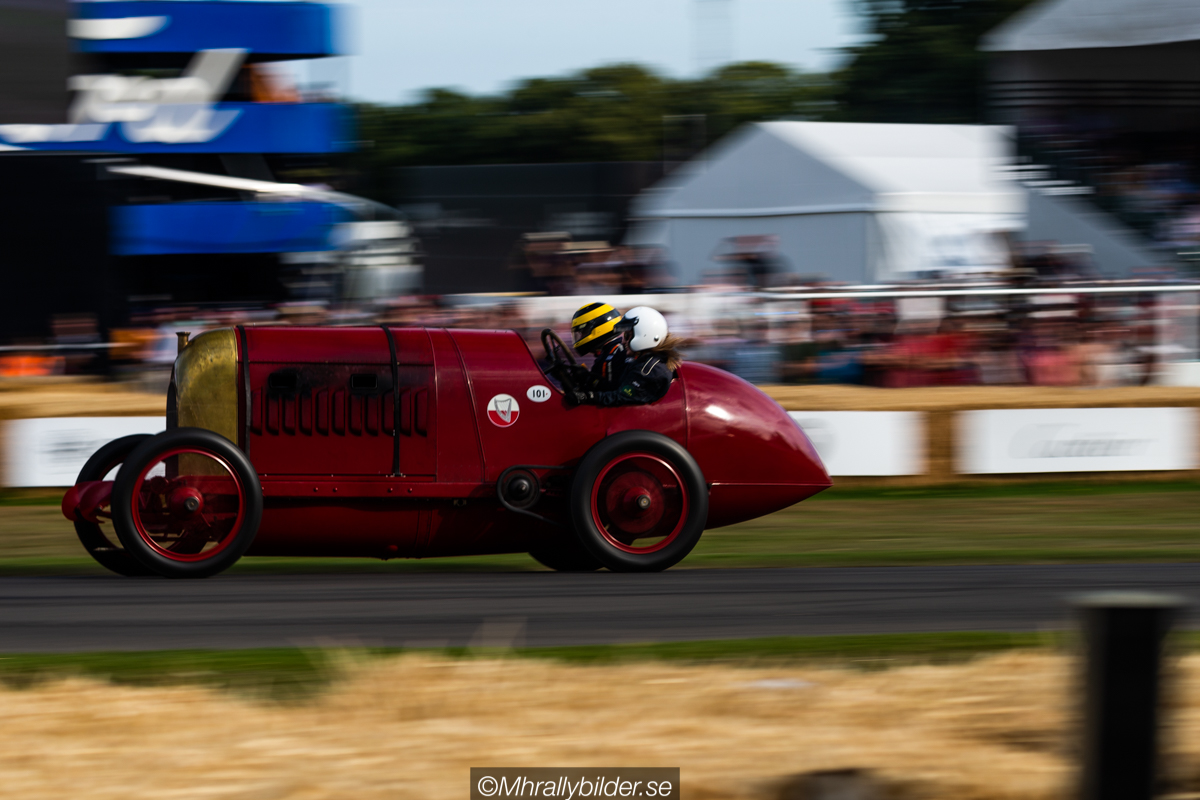 Fiat S76, or better known as The Beast of Turin houses an engine that makes every other engine look like it belongs on a lawn mower, you see this car has a 28.5 litre engine,
or roughly 1740cui for you that prefers that measurement.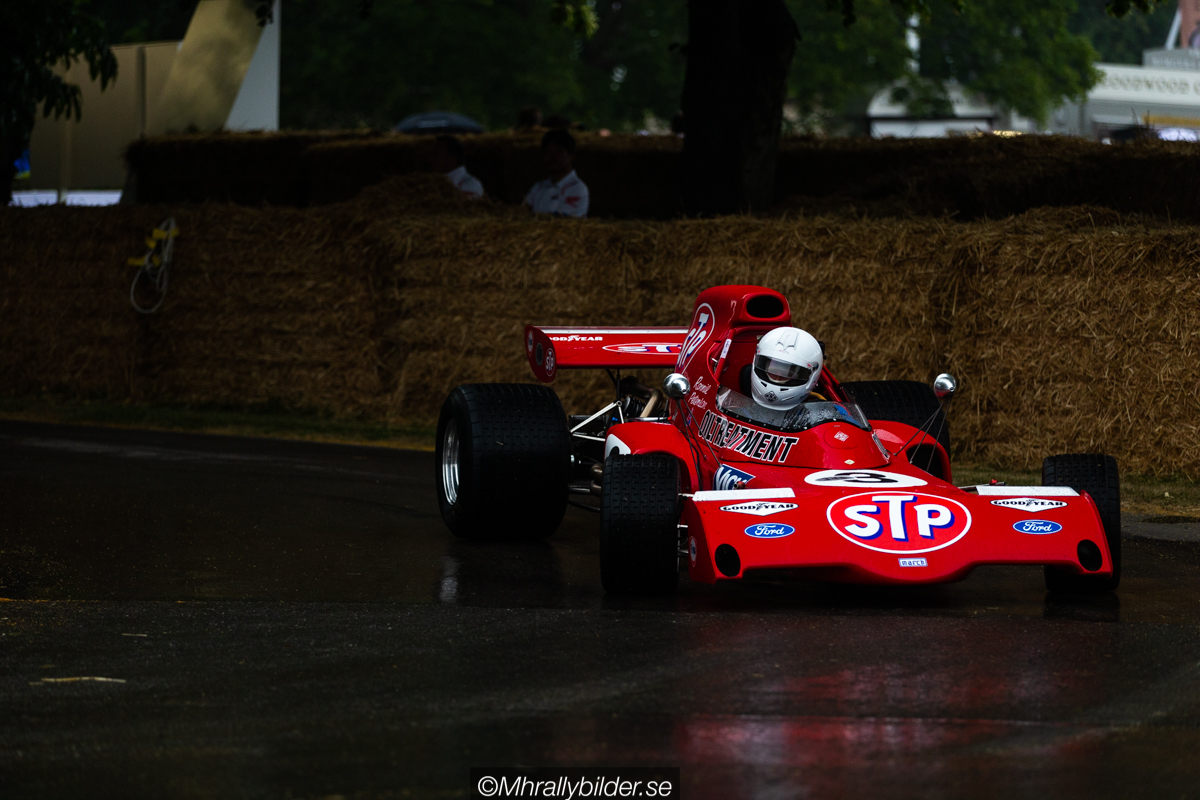 On the last day of Goodwood we were greeted by a light shower..but I didn't mind that, it was nice to cool off for a bit after three hectic days before that.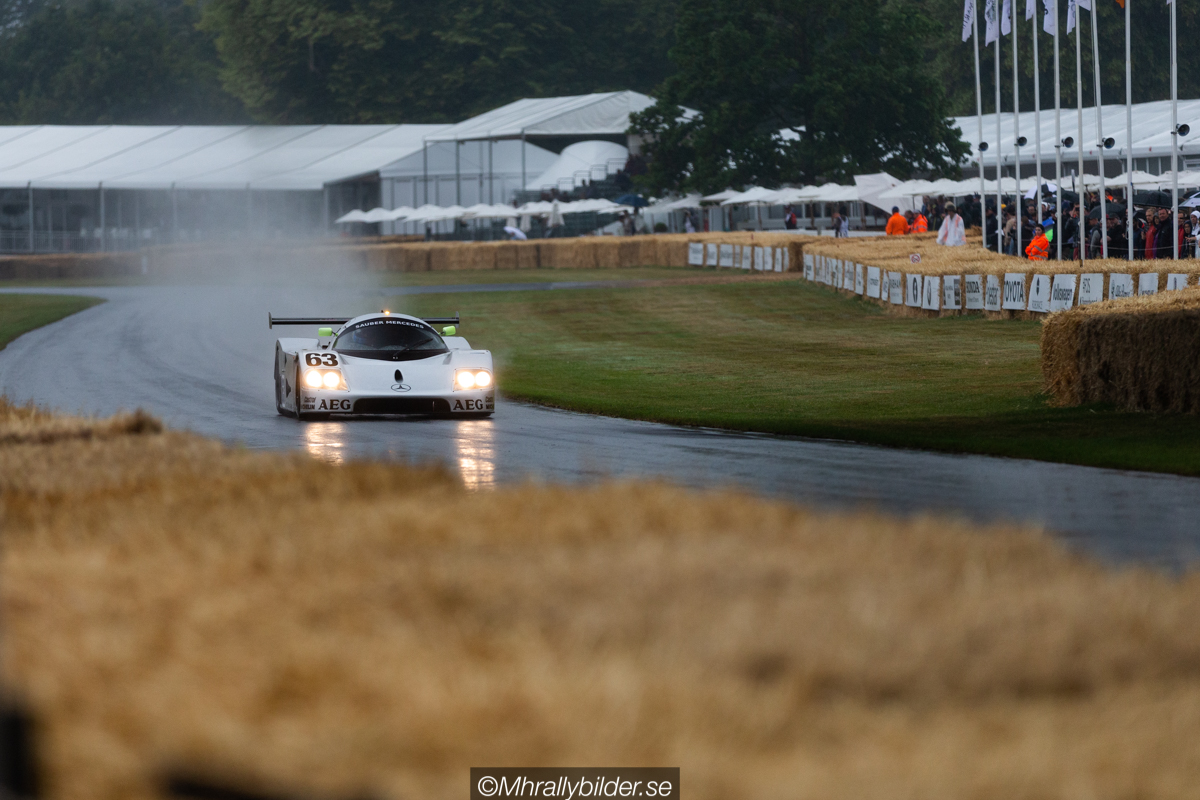 One thing that has always fascinated me is "spray" or "rooster tails" that arises behind cars which has a profound amount of downforce, and luckily for me it got fairly
noticeable in the wet. Above as you can see is a Sauber C9 throwing up a decent amount of water behind it.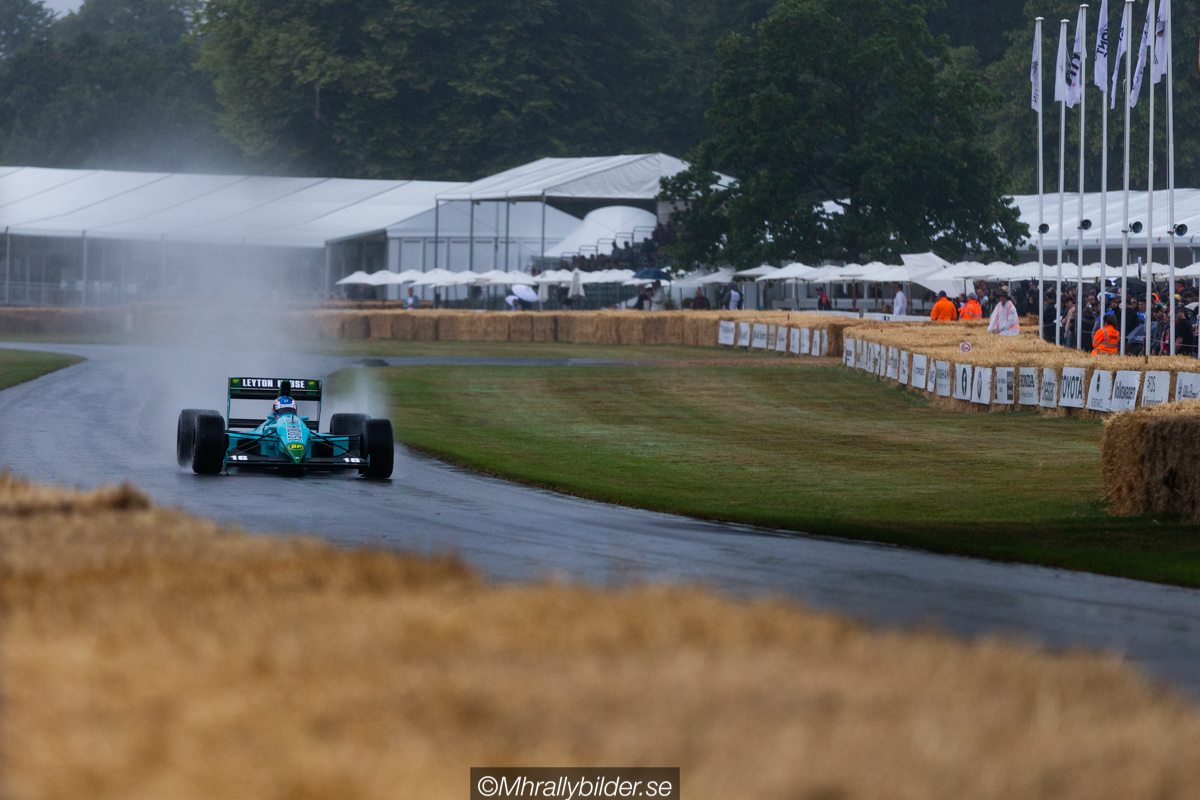 Here we have a March CG981 from 1989 throwing up slightly more water than the C9 you saw earlier, but part of that is due to the tyres not being covered too.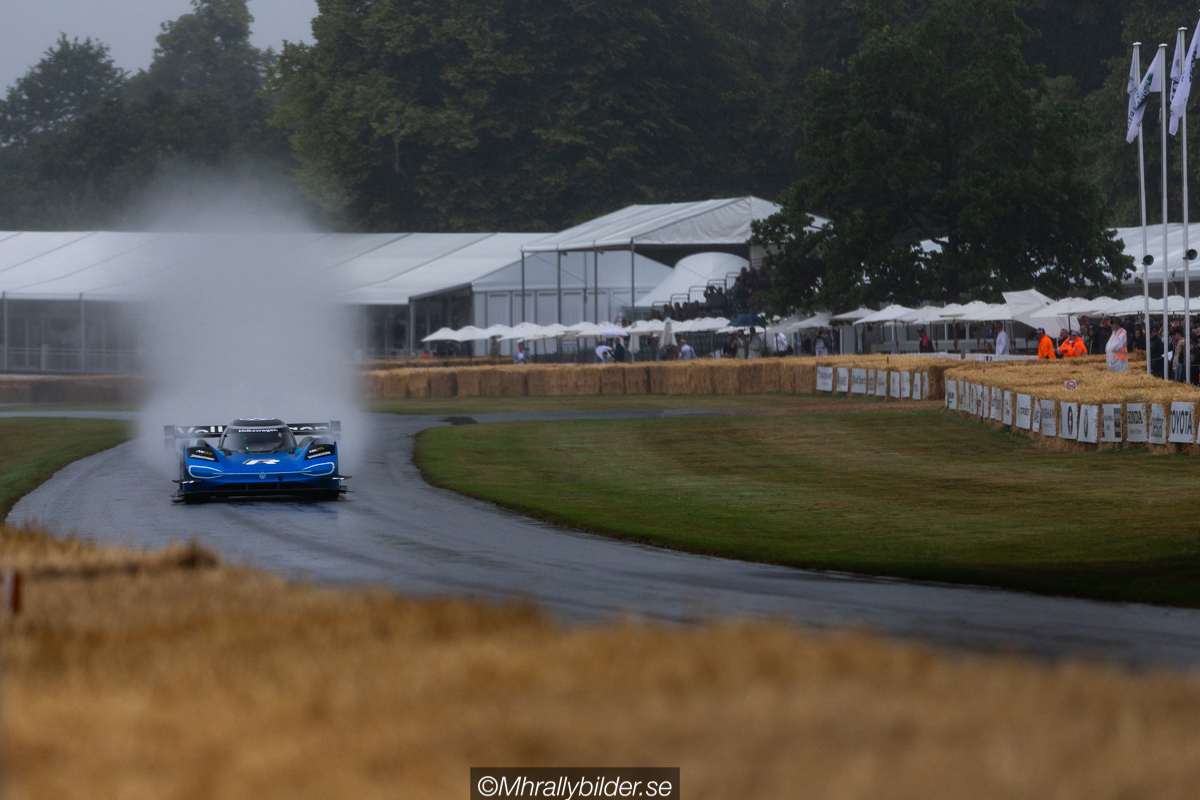 Here we have the Volkswagen ID.R and as you can see it pretty much dries the road behind it! I have never seen (and probably will never see) anything like it!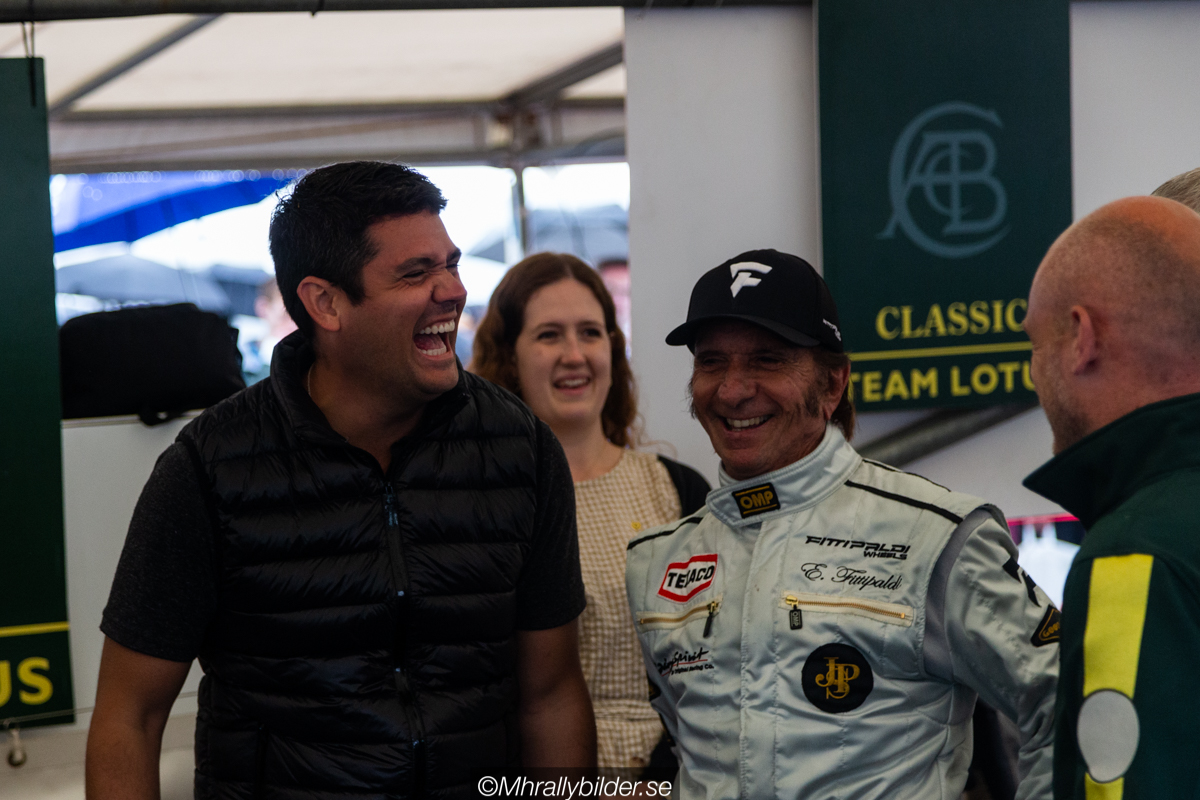 When Emerson Fittipaldi says something funny you laugh, that's just how it works!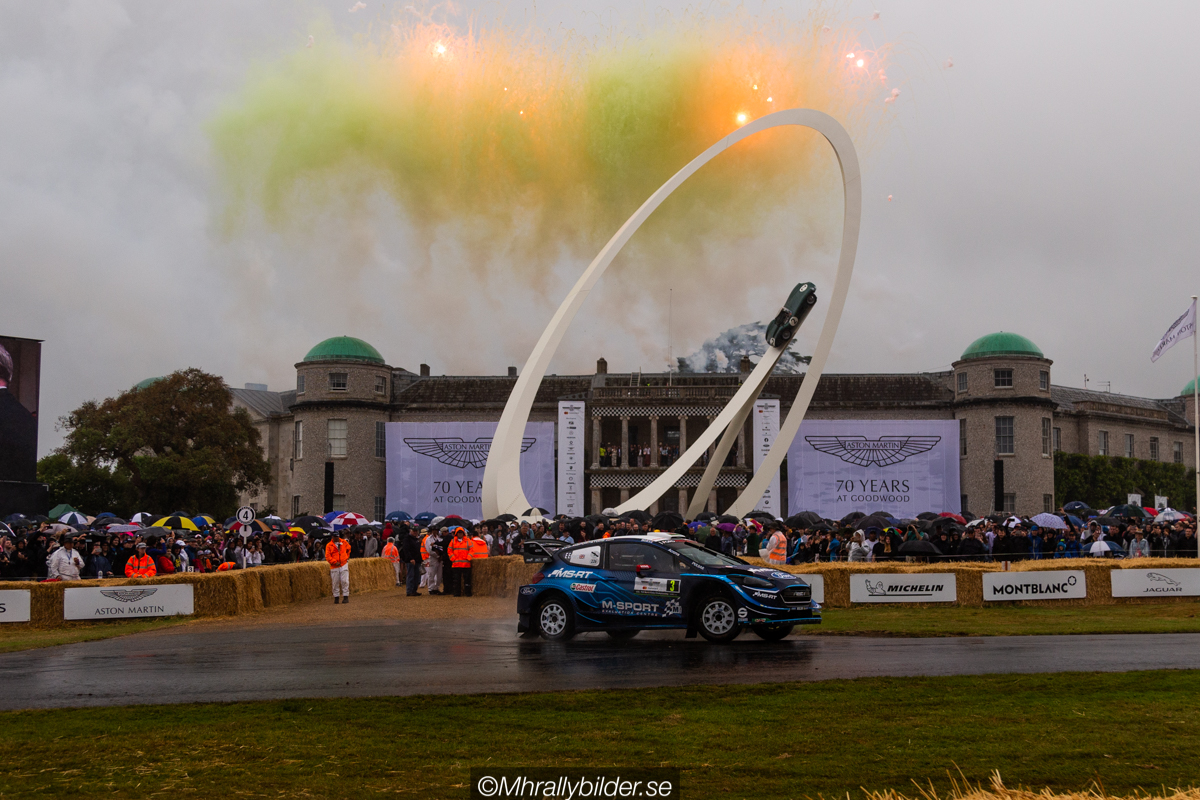 A WRC car doing donuts its always exciting to see, but with fireworks in the background it gets a bit more special.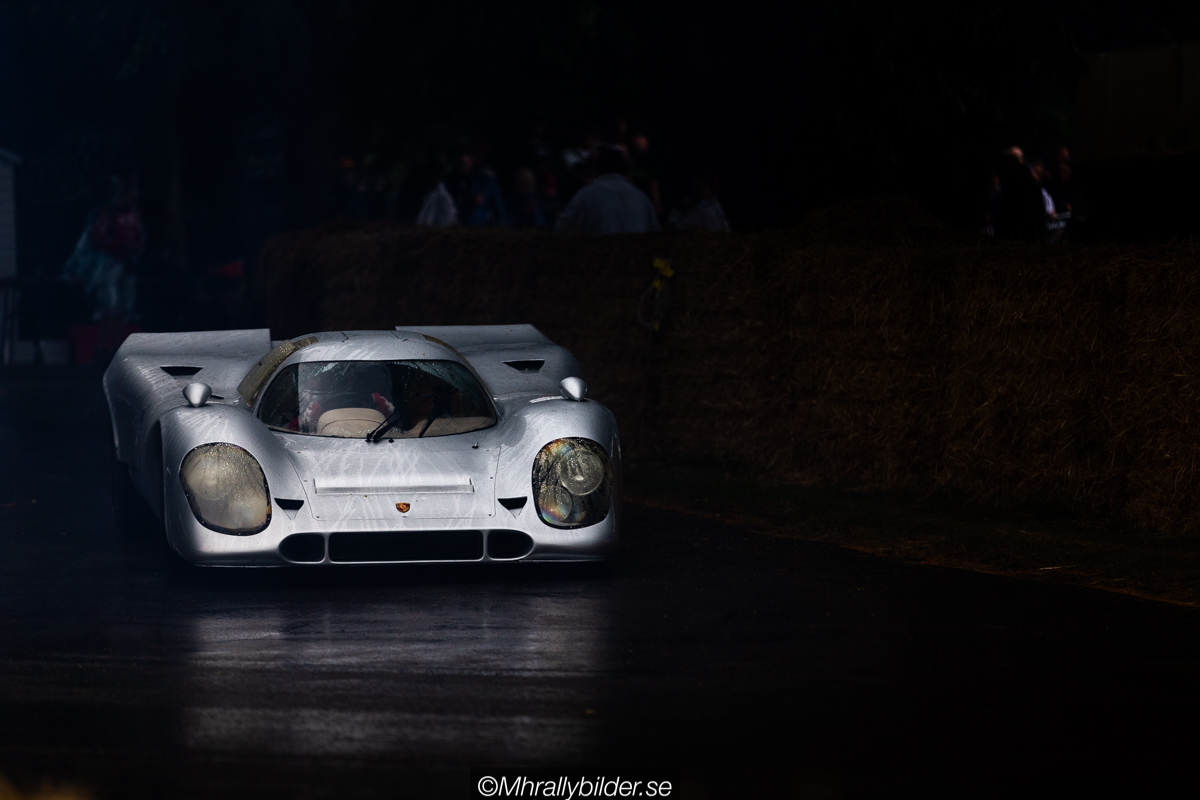 A 917K without a livery..I'm just blown away by its beauty!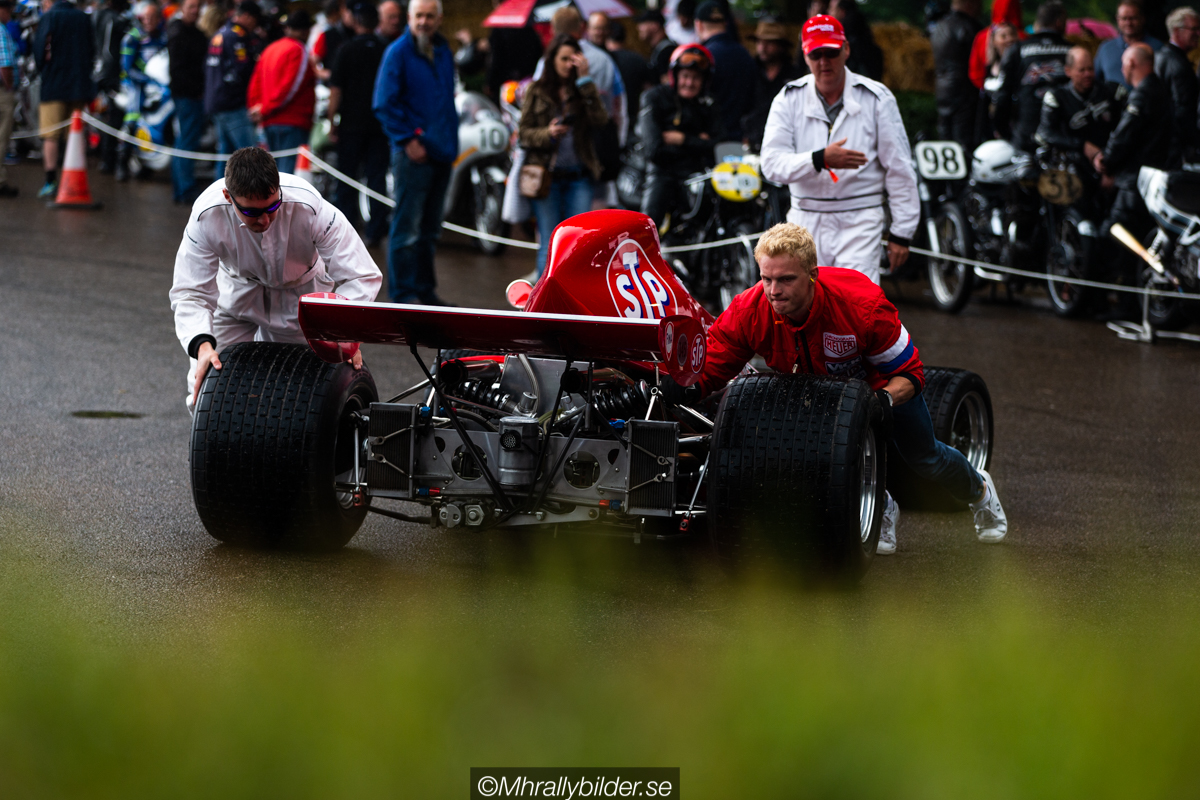 I guess a reverse gear weighed too much to put in back in the day for March when they built the 721X.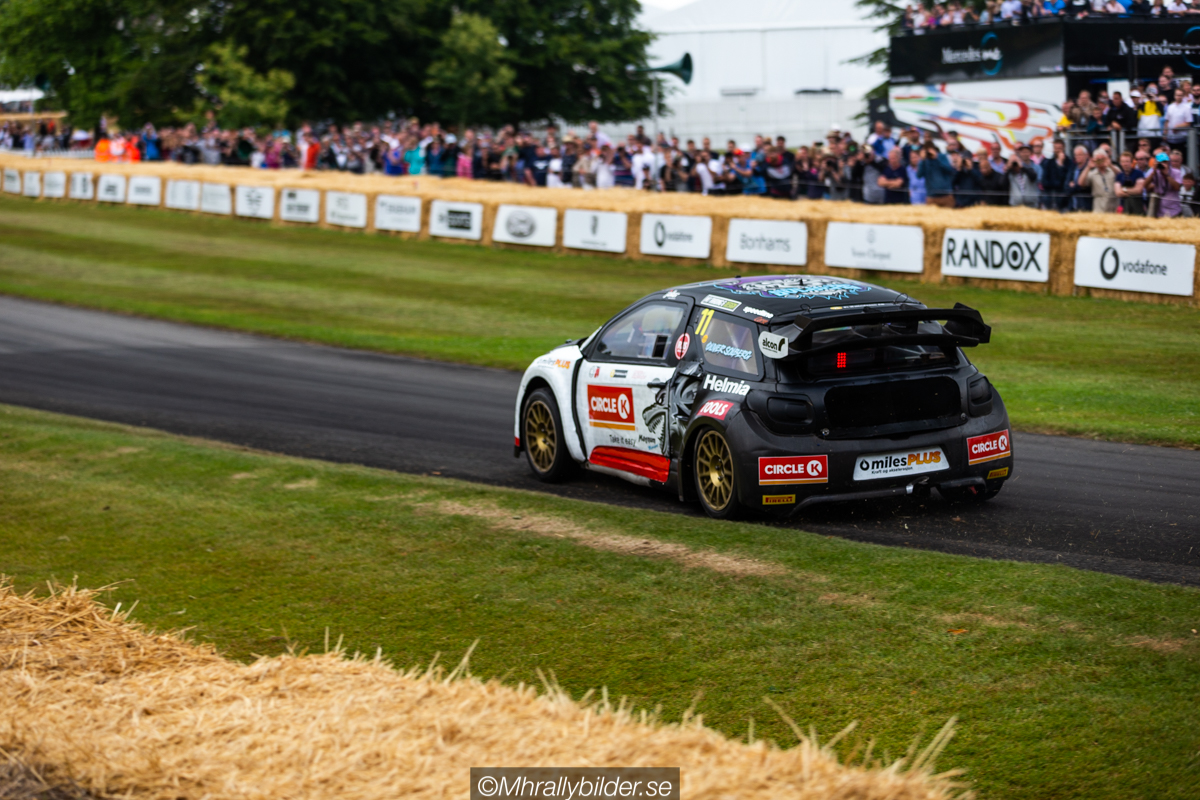 When it was time for the shoot out I made my way to the first corner, and that didn't disappoint in any bit!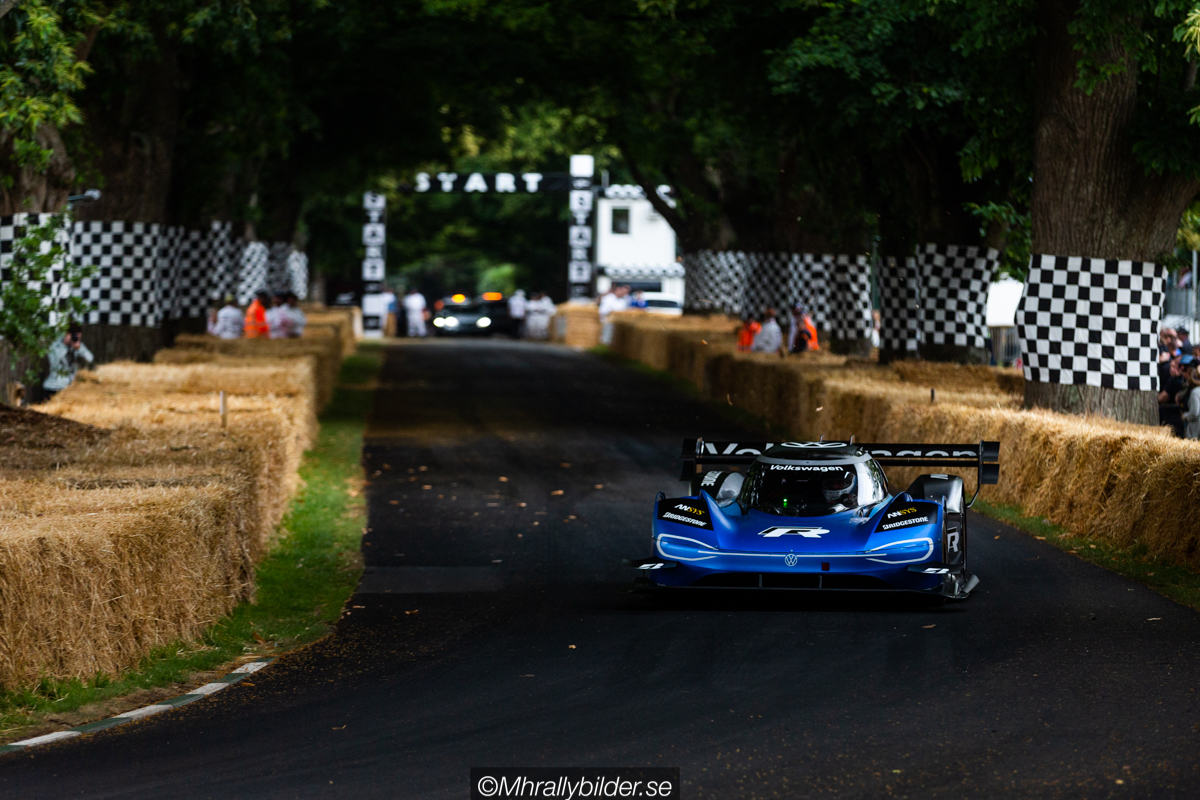 That gave me a fair chance to get anything good on this amazing machine since this is the place where I could see it for the longest amount of time (which still was very short).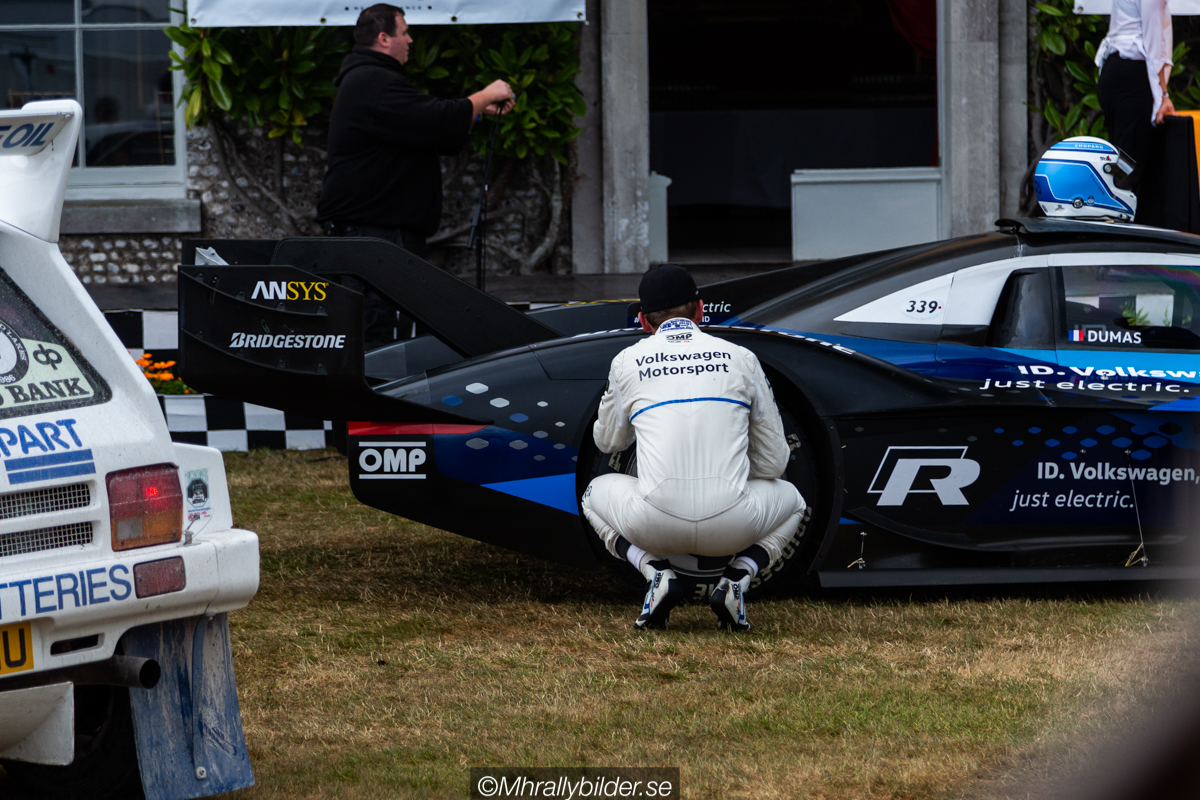 Mr. Dumas inspecting the tyres after the run..maybe he noticed he could've given it a bit more?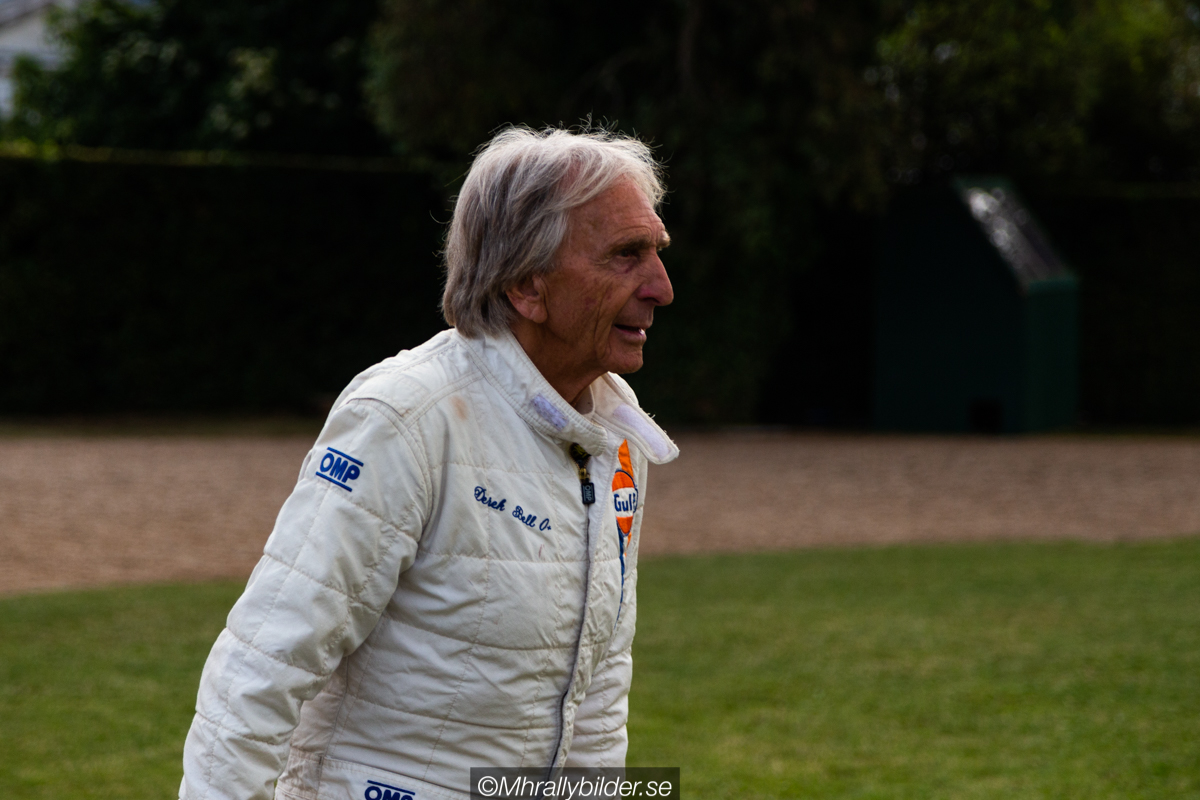 On my way back towards the car park I saw a familiar face heading my way, and it was none other than Derek Bell! What a great way to end this marvelous weekend!
As always you will find a gallery below!